Afternoon tea was first introduced in England by Anna, the seventh Duchess of Bedford, in the year 1840. The Duchess would become hungry around four o'clock in the afternoon. The evening meal in her household was served fashionably late at eight o'clock, thus leaving a long period of time between lunch and dinner. Since then, Afternoon Tea has become a much-loved tradition here in Ireland too so what better than a list of our favourite afternoon tea destinations around Ireland.
The Shelbourne
An elegant sanctuary from a chilly winter's afternoon, The Shelbourne Hotel provides a warm and welcoming retreat from the hustle and bustle of the city during the hectic Christmas season and offers a sublimely seasonal Festive Afternoon Tea in the Lord Mayor's Lounge. The Festive Afternoon Tea menu offers an array of finger sandwiches, including whiskey-cured smoked salmon with Lakeshore mustard on Guinness bread, roast turkey with light mayonnaise and onion stuffing in a poppy seed roll, and cherry vine tomato with feta cheese on pumpkin bread, along with delicious warm buttermilk scones with clotted cream and Shelbourne preserves, and warm homemade ginger bread. The pastry chef elves have also been busy in their workshop creating a special selection of sweet festive treats such as A Taste of Christmas (cranberry jelly with eggnog mousse and poached winter fruit), a Christmas Sleigh of Black Forest gateau, and a Snowball, a dark chocolate mousse with orange gel and brownie pieces.
Available from €62 per person.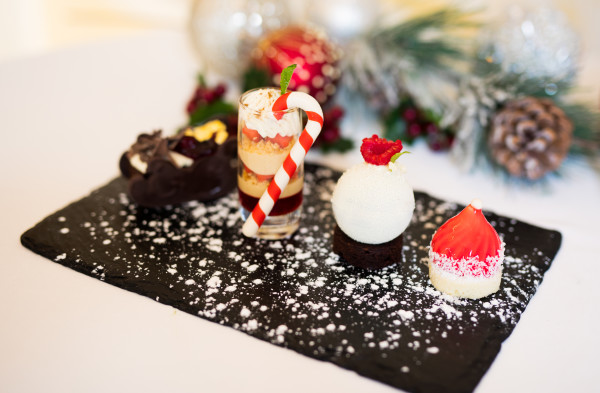 Brown Thomas
Brown Thomas unveils the most enchanting afternoon tea experience with guests invited to come all aboard its magical train carriage in The Restaurant by Johnnie Cooke this festive season. The afternoon tea experience offers the most delectable combination of sweet and savoury delights by renowned chef Johnnie Cooke and includes a glass of prosecco also. Beautifully presented on a tea stand replicating the façade of the iconic Grafton Street department store, the delicious savoury menu includes an Irish St Tola goat's cheese tartlet, truffle chicken gougeres with morel mushrooms, black truffle and parmesan cheese, coronation chicken served with red endive, sultanas, almonds and mango and a 'Brown Thomas Charmeuse' - a buckwheat crêpe served with organic Irish smoked salmon, chives, caviar and crème fraîche. Guests can indulge sweet treats such as a champagne raspberry macaron, a Sicilian lemon tart, a Catalan crème brûlée made with Seville orange, cinnamon and bourbon vanilla and a 'Brown Thomas Verrine' - a creamy coconut, liquid raspberry, passion fruit mousse. Guests can treat themselves to bubbles from Veuve Clicquot or a cocktail from a specially curated menu.
Available from €45 per person.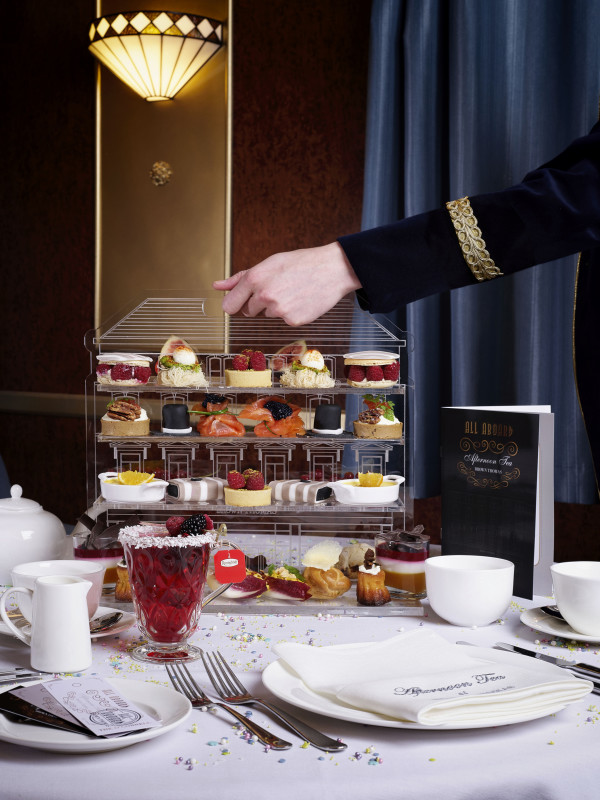 Muckross Park Hotel & Spa
As the Christmas lights twinkle and the snow begins to fall on Killarney National Park, Muckross Park Hotel & Spa invites guests to taste the delights of Christmas and relax this festive season with their Festive Afternoon Tea. Masterfully designed by the culinary team Festive Afternoon Tea will be served in the elegant surroundings of Monk's Lounge, allowing guests to toast to a time-honoured tradition this Christmas. Sparkle with gourmet sandwiches, freshly baked scones, festive treats and bubbling Champagne as you are surrounded by the stunning scenery of Killarney National Park, the ultimate way to relax this Christmas. Located just outside Killarney town centre, with roaring fire and cosy couches, enjoy a delicious Afternoon Tea this Christmas with Festive Afternoon Tea in the magnificent 5-star Muckross Park Hotel & Spa.
Available from €32 per person.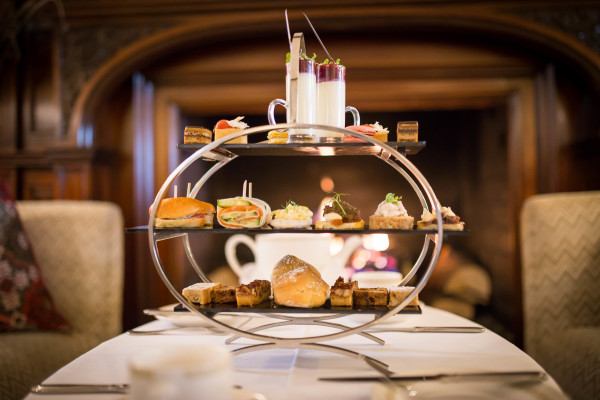 Powerscourt Hotel Resort & Spa
Take a trip to the award-winning Five Star Powerscourt Hotel Resort & Spa an Autograph Collection Hotel and soak up the sugary excesses created by the incredible Culinary Pastry Team as they showcase their craft this Christmas. On arrival you will be in awe of the incredible gingerbread reindeer, especially created by Pavel and the pastry team. The reindeer took an impressive 40 hours to make using 42 kilos of gingerbread and 25 kilos of royal icing. Powerscourt Hotel Resort & Spa offers a truly magically escape, the perfect setting for celebrating the festive season in style and welcomes guests wanting to enjoy the first-class facilities without staying over. The mouth-watering and wonderfully festive Afternoon Tea at Powerscourt Hotel is available with or without champagne, offers diners a selection of culinary festive delights including pastries, freshly baked scones, mince pies and delicate finger sandwiches.
Available from €45 per person.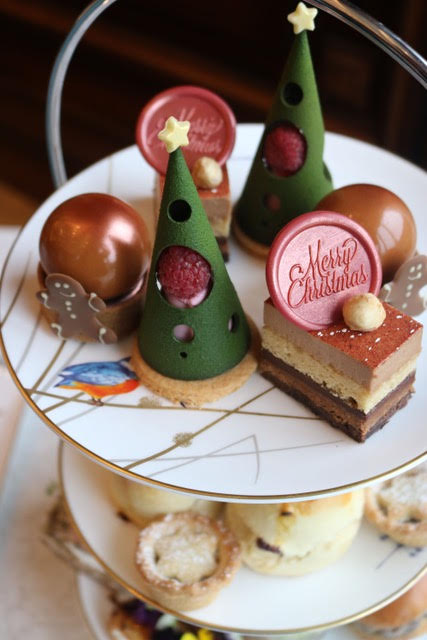 The Westbury
This Christmas, visitors will be impressed by the creativity of The Westbury's pastry chefs and their specially created Festive Afternoon Tea – a much loved tradition for many. Served in the beautiful surrounds of The Gallery, guests will have the opportunity to enjoy festive fare in its cosy, elegant surrounds. The festive Afternoon Tea menu is filled with inspiration from the past and takes a nostalgic twist on some traditional festive flavours - a tower of delicious savoury sandwiches, bite-sized brioches and bakes enjoyed in the elegant gallery, with crisp linens, bandbox-striped bone china cups, silver teapots, crystal champagne flutes and the tinkling of ivories in the background. At the heart of the offering comes a supremely inventive choice of patisserie, including festive verrines starring whipped ruby chocolate ganache and raspberry gel, the Christmas Snowman crafted from white chocolate and coconut tart; Choux pastries filled with Gianduja pastry crème and Mascarpone Chantilly; and the Christmas Opera cake, a divine creation of pistachio, raspberry and caramelia. An array of festive savoury delicacies, such as Smoked Turkey breast salad come together to create the most luscious Christmas treat. Vegan Afternoon Tea is also available.
Available from €55 per person.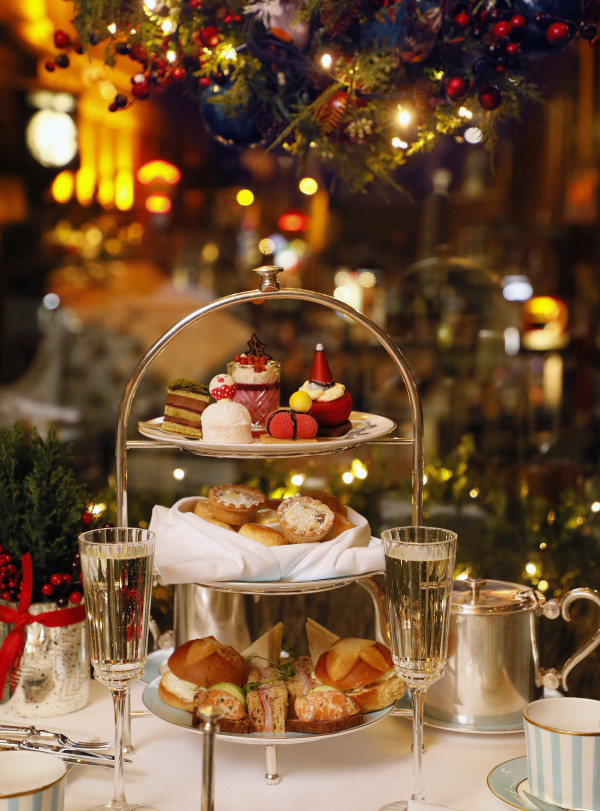 The K Club
These days, there is often so little time to relax and indulge in the finer things in life. The K Club has a sought-after tradition that allows you to do just that, with an elegant Afternoon Tea served daily in the luxurious Chinese Drawing Room. The Christmas season brings its own special version of this ritual, a Festive Afternoon Tea with a distinctly Yuletide flavour. The classic three-tiered silver stand of goodies includes freshly baked cranberry scones with a selection of preserves, whiskey and spiced panna cotta coated in tempered chocolate, mini Christmas pudding made from ganache and Christmas pudding, and a Jacob red and white spiralled sponge with mousse. The savoury tier includes smoked salmon sandwiches on Guinness bread with pickled red onion, pulled chicken with celeriac remoulade served on mini brioche buns and dainty egg and cress finger sandwiches. All guests who take Festive Afternoon Tea will also receive a gift of house-made mince pies to take home with them.
Available from €42.50 per person.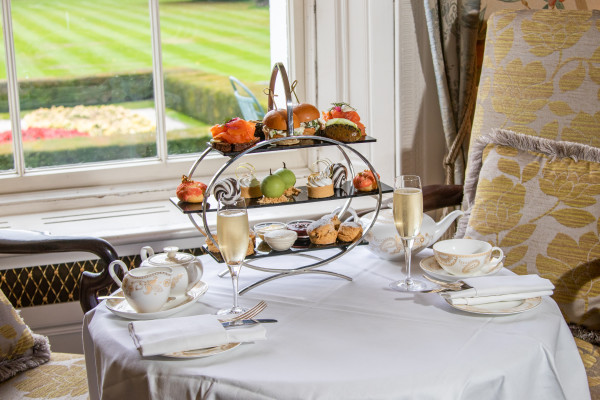 Portmarnock Hotel
The breath-taking Portmarnock Hotel & Golf Links have just launched their Winter 2019 'Afternoon Tea by the Sea' menu. Visitors can expect speciality teas, a delicious assortment of small cakes, pastries and savouries and of course the option of a few glasses of bubbles for the party season. Afternoon Tea is served in the beautifully refurbished Seaview is in a quiet corner of the hotel where you can enjoy a dining experience as good as the view. The relaxing spot has panoramic windows with magnificent views over Dublin Bay and one of Ireland's best-known landmarks, Ireland's Eye. The new menu created by Executive Chef, Thomas Haughton, offers a delicious variety of tasty bites, ranging from savouries to finger sandwiches, pastries, scones and cakes. While there are some savoury delicacies including the crisp smoked haddock dumpling and the duck pate & brioche with crab apple, there are also some mouth-watering pastries including pistachio mascarpone cheesecake with sable biscuit, rich chocolate "pave" chocolate curl and praline, or the house favourite, Craqueline choux, buckwheat & honey Chantilly.
Available from €38.00 per person.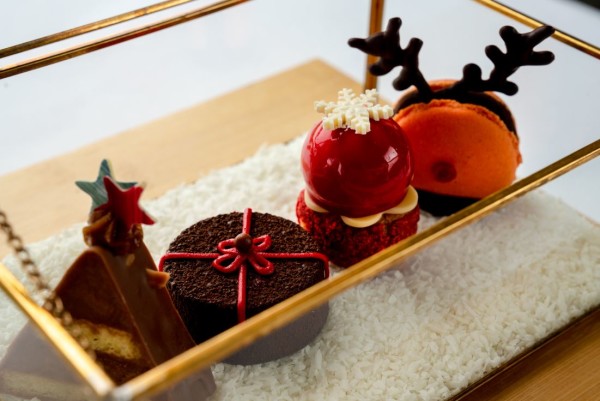 Adare Manor
Celebrate Christmas in one of the most breath-taking rooms in the country with a Festive Afternoon Tea in The Gallery at Adare Manor, the Dunraven family's favourite room, and the centre of their family life in the manor house. This Christmas gather your friends and family for a truly unforgettable dining experience, sit back and take in the grandeur of this magical room as you enjoy three tiers of delicious sweet and savoury treats with a festive twist. From dainty sandwiches of Duncannon smoked salmon, poached salmon mousse and caviar on a brioche bun and roast turkey with sage and cranberry stuffing to a delectable chocolate and orange bauble with spiced biscuit and a red velvet trifle with strawberry jelly, red velvet sponge and cream cheese icing, the Festive Afternoon Tea at Adare Manor is an experience to be savoured from beginning to end.
Available from €55 per person.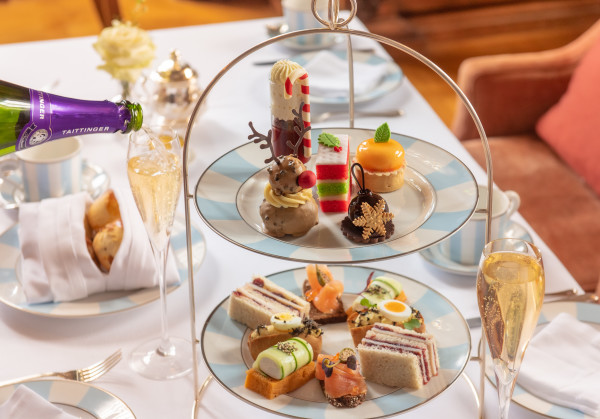 Christmas at Killashee Hotel
Top of our Christmas wish list is the sumptuous Traditional Afternoon Tea at Killashee Hotel in Kildare which is just 40 minutes' drive from Dublin. Killashee Hotel is the perfect setting to get into the Yuletide spirit - the Victorian grandeur of the original house are set off perfectly by the season's twinkling lights, elegant decorations and darker skies outside. Enjoy afternoon tea in the cosy yet elegant surrounds of Turners Restaurant where you'll enjoy savoury treats like goats cheese mousse with red onion jam on focaccia, spiced beef and horseradish sliders, mini smoked salmon and crème fraiche tart with lemon gel, and traditional roast turkey with cranberry sauce served on the hotel's homemade treacle bread. Sweet treats include eggnog custard tart, mini Christmas puddings, spiced mulled wine Choux buns and gingerbread macaroons with ginger ganache, complemented by a wide selection of teas and coffees. You'll also enjoy homemade orange and cranberry and plain scones with homemade cinnamon butter and jam.
Available from €30 per person.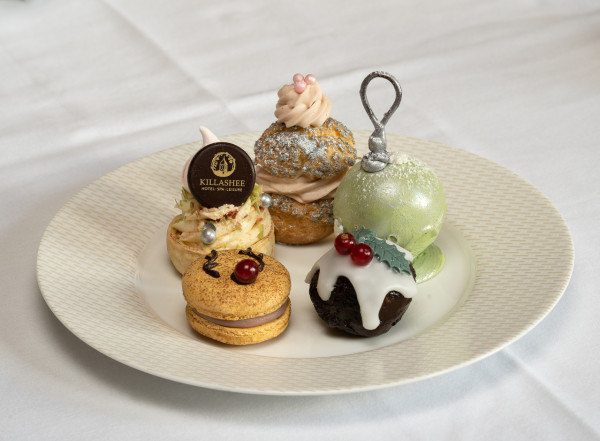 The Bridge House Hotel
After checking off your Christmas shopping list in the bustling midlands town of Tullamore, check in with the team at the Bridge House Hotel for a Festive Afternoon Tea by the fireside in their elegant lobby with festive tunes providing the perfect backdrop. This traditional afternoon tea begins with freshly made sandwiches created with a variety of fillings, followed by a selection of home-made cinnamon and fruit scones, delectable sweet treats of winter berry panna cotta, mini mince pie crumbles and homemade macaroons, all served in a traditional three-tiered silver stand.
One of Ireland's most popular landmark hotels located right in the centre of the country, the four-star Bridge House Hotel is the ideal central location to meet up with friends and family and catch up together this Christmas Season.
Available from €20.00 per person.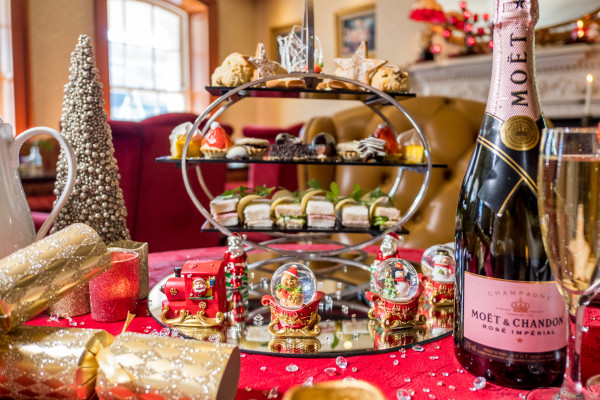 A Taste of Christmas at Druids Glen
This Christmas, Druids Glen Hotel & Golf Resort is bringing together all their favourite festive flavours for a special themed Afternoon Tea menu to create a perfect culinary experience that is sure to put you in the festive spirit. Just 30 minutes outside of Dublin, escape the madness of the city centre and take in the stunning views of the Wicklow landscape. Turkey, cranberries, gingerbread and mince pies all appear on the menu, in the creation of beautiful sandwiches, home-made cakes and delicious sweet treats. The menu includes a Turkey and Cranberry Mini Savoury Bun, Cranberry and Chocolate Scones, Red Velvet and Coconut Cake and Orange and Mince Pie Choux. For the coeliac in the house, gluten free options are available.
Available from €32 per person.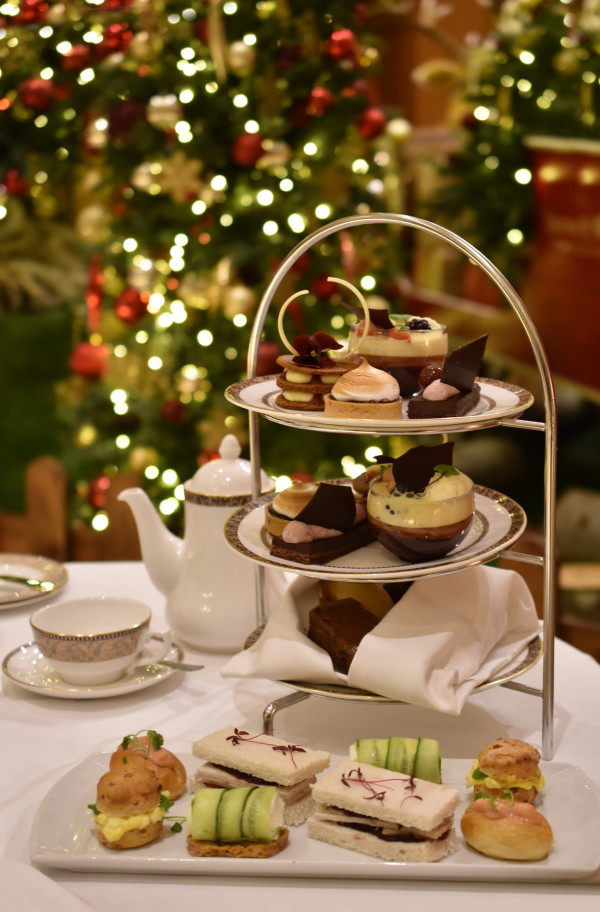 Lough Eske
Traditional Afternoon Tea might have been invented for a castle hotel in Ireland such as Lough Eske. It can be taken here in the Lobby Lounge or if you prefer, in one of the lovely drawing rooms. You will feel transported back to an era when this elegant ritual was de rigueur. The menu includes delicious savoury sandwiches such as brie, walnut and caramelised pear mini bagel, beef pastrami with pickled cucumber and horseradish focaccia and smoked chicken and sundried tomato on toasted brioche. No afternoon tea would be complete without something sweet and the fine pastries and sweet treats by Head Pastry Chef Andrew McKee are sublime. House made scones with Irish clotted cream and strawberry jam, pistachio and cherry financier, macaroon gingerbread crème brulee, opera gateaux and egg nog crème choux bun are all on the menu.
Available from €24 per person.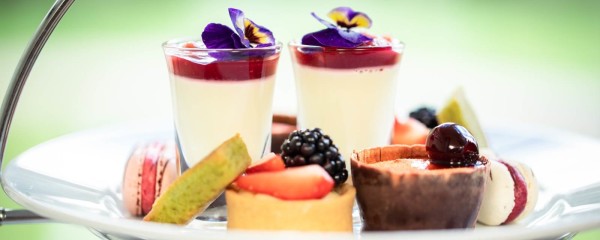 Dromoland Castle
There's afternoon tea and then there's afternoon tea at Dromoland Castle! Cosy up in The Gallery, by the fire or overlooking the grounds and settle in for a decadent feast. The selection is fabulously festive, with mulled wine, delicate finger sandwiches, warm mince pies, festive pastries, chocolate roulade and scones with home-made jams and clotted cream. Of course, the specially selected loose-leaf teas from around the world are served in sparkling silver teapots, alongside the prettiest china. This is an unmissable five-star indulgence you'll love.
Available from €45 per person.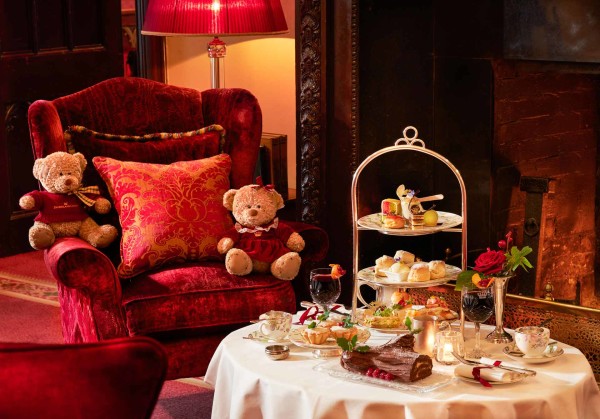 The River Lee Hotel
The perfect reward after a morning spent ticking off your Christmas shopping list, and a gorgeous seasonal treat to enjoy while soaking up the festive atmosphere in Cork city, the stylish and elegant surroundings of The Cocktail Bar in The River Lee hotel will bring you lots of comfort and joy with their delicious Festive Afternoon Tea. Begin the festive celebrations with a glass of bubbles and embrace the Christmas cheer with an array of dainty sandwiches. Afternoon tea sandwiches include Christmas favourites such as turkey and cranberry coronation sandwich, spiced beef sandwich with mint crème fraîche, and smoked salmon on homemade brown bread with horseradish aioli. It wouldn't be afternoon tea without freshly baked scones, Chantilly cream and jam which are served with your choice of tea to warm the cockles. Finish with a delectable choice of sweet treats including a Baileys cheesecake, pear and almond financier and, of course, mini mince pies and iced Christmas cake.
Available from €35 per person.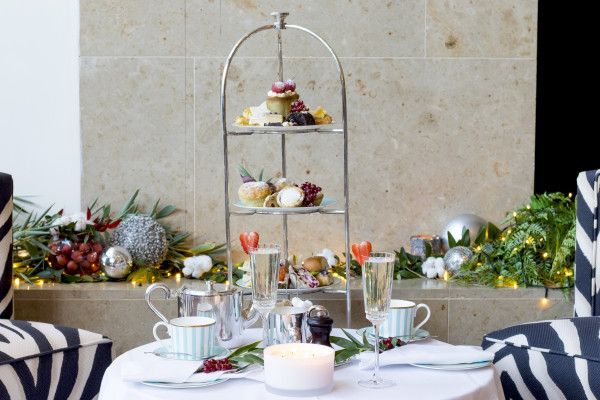 Ballynahinch Castle
Afternoon Tea at Ballynahinch Castle is both a traditional high tea and a showcase of Connemara's finest products, using the best seasonal produce available. A combination of traditional finger sandwiches and signature open sandwiches, the Afternoon Tea menu features egg & watercress on Irish soda bread, crayfish, dill & cucumber on sourdough, coronation chicken on walnut & treacle loaf, and Connemara lamb with mint yogurt dressing on sourdough. Sweet treats include everyone's favourite, scones, both plain and fruit, with a selection of homemade jams and clotted cream, along with rose and raspberry macaroons, berry tartlets with crème pâtissière, milk chocolate mousse and mini Pavlova with seasonal fruits.
Available from €25 per person.

Clayton Hotel Ballsbridge
Afternoon tea at the Clayton Hotel in Ballsbridge includes delicious savoury bites such as filo cups with roasted vegetables, scallop shells with smoked salmon and saffron pickle, tomato tortilla or savoury choux profiteroles filled with duck liver mousse. The sweets look divine too with classic opera cake, carrot cake, white chocolate mousse and macaroons just some of the tasty treats on offer.
Available from €25