The baby offering from Dunnes Stores has gone from strength to strength in recent times. It's no longer about just stocking up on brilliantly priced nappies, wipes and baby toiletries. The new baby event includes must haves for your new baby at prices that can't be beaten.
Our top buys include:
Tommee Tippee Change Caddy – now only €13.99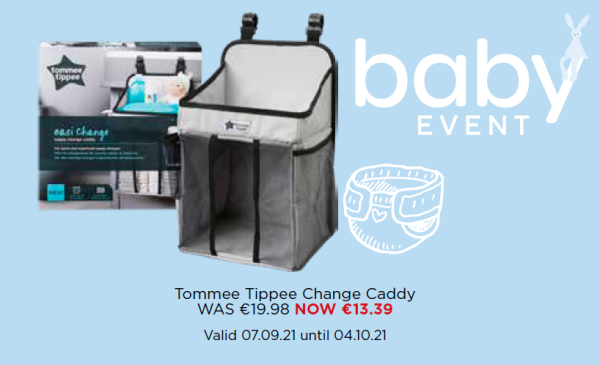 The much loved brand Tommee Tippee's Easi Change Nappy Caddy is a great buy - you can stack nappies, wipes and changing bits all in the one place. You can also hang this clever product on any bench or door for easy access.
Tommee Tippee Twist & Click Advanced Nappy Disposal System White (WAS €32.99 NOW €19.99) & Sangenic 3 Packs (WAS €23.99 NOW €18.99)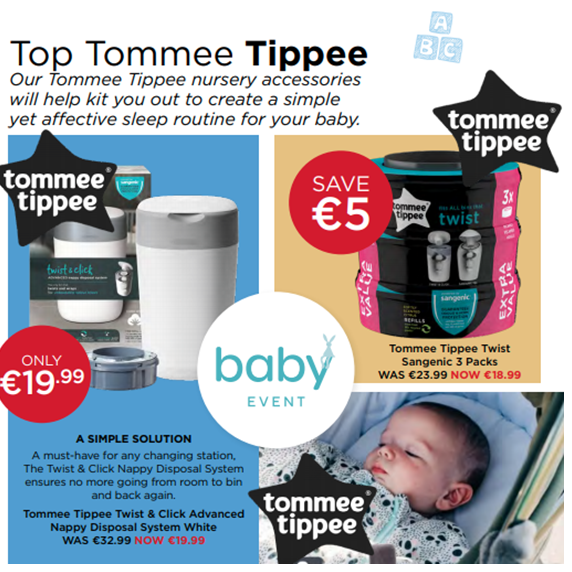 This is a must-have for any changing station, The Twist & Click Nappy Disposal System and Matching nappy bag refills for the Tommee Tippee Twist & Click Advanced Nappy Disposal System ensures no more going from room to bin and back again.
ClevaCushion™ Nursing Pillow & Baby Nest ONLY €44.99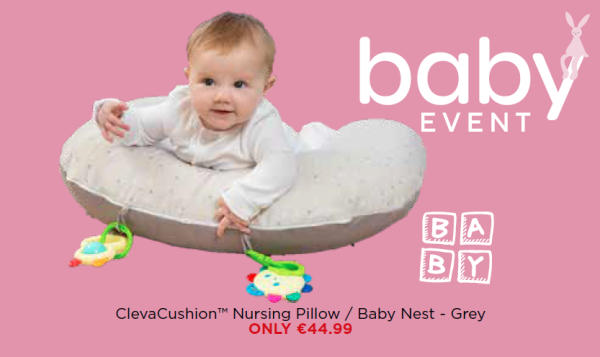 You'll never regret picking this up – buy it during pregnancy to support your bump as you grow bigger and keep it for baby's arrival. It's wonderful if you are breastfeeding but also really handy to support your new baby when they are in the tiny newborn stage. It has 10 different uses making it ideal for use from pregnancy right up until toddler stage.
ClevaMama New born Tummy Time Soft Grey/Mint ONLY €29.99
The Clevamama New born Tummy Time Mat gives advanced support for your newborn baby during tummy time. It designed to make tummy time more comfortable and enjoyable for your baby. Placing your baby on their tummy, while awake and supervised, is a great way of helping your baby develop strong neck and shoulder muscles, promote motor skills, and reach early achievement milestones including rolling over, sitting up and crawling.
ClevaMama Universal Footmuff – Grey ONLY €64.49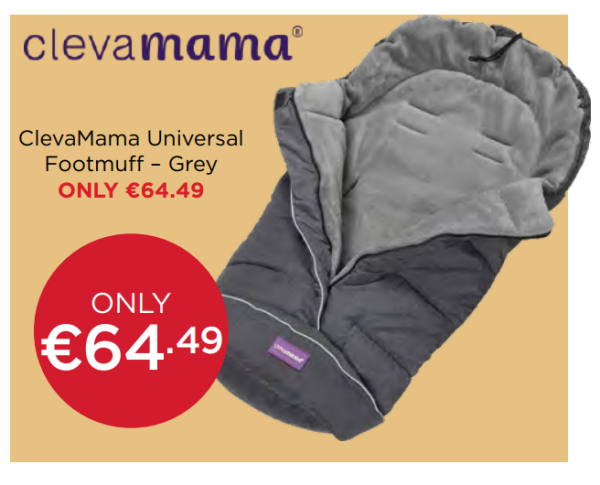 You'll never regret picking up the ClevaMama Universal Footmuff. This luxurious fleece lined footmuff has a water resistant shell that keeps your baby or toddler warm and cosy. This cosy stroller footmuff is extra long and has a chest opening for easy access and a bottom opening for muddy boots and shoes. With a pull-tie hood for colder days, your baby will stay snug and warm.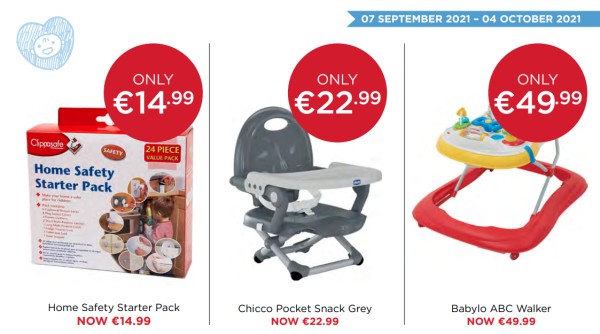 Clippasafe Home Safety Starter Pack ONLY €14.99
First-time parents are not always aware of the extent of dangers found in a normal domestic environment for inquisitive young children. The Home Safety Starter Packs is designed to protect toddlers and put parents' minds at ease. It's great value and is a must-have item for parents starting to make their home safe for their little one, or anyone wanting to buy the perfect gift for a family with a new-born baby.
Babylo ABC Walker ONLY €49.99
The Babylo Combo 3-in-1 Walker is suitable from 6 months up to 12kg. Stimulate your baby's senses and fine motor skills with the interactive features including a light and sound toy bar and removable play tray. As your little one grows, adjust the height of the walker and remove the seat pad. Perfect for storing in the home, with its compact fold.
Chicco Pocket Snack Grey ONLY €22.99
The Chicco Pocket Snack Booster Seat is lightweight, portable and easy to adjust, perfect for families on the go. With a shoulder strap, a carry handle and a compact fold, this Chicco booster seat makes heading out and about with baby that bit easier. Simply use the secure safety straps to attach the booster to any dining chair, creating the perfect perch for little ones.
The Chicco booster seat can be adjusted to 3 different heights to suit your child, with an adaptable 3-position tray. Wipe-clean surfaces make tidy up a breeze – and the quick and easy fold lets you stow away this booster seat in a flash.
The Dunnes Stores Baby Event runs from 7th September to 4th October 2021. For more great baby offers, read the baby event magazine here now.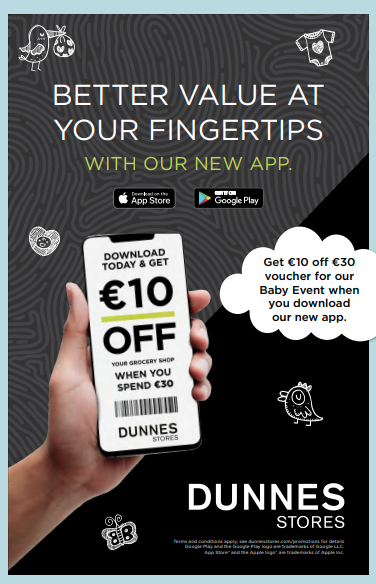 And don't forget, download the new Dunnes Stores app and get €10 off €30 voucher!