Aveda™ creates high performance, botanically-based products for beauty professionals and consumers—while continuously striving to conduct business in an environmentally sustainable manner. Aveda's™ Holiday 2012 gift collection features all-time favourites and the latest innovations, with gift sets that celebrate the beauty of nature balance and giving back. Here are a selection of our favourites: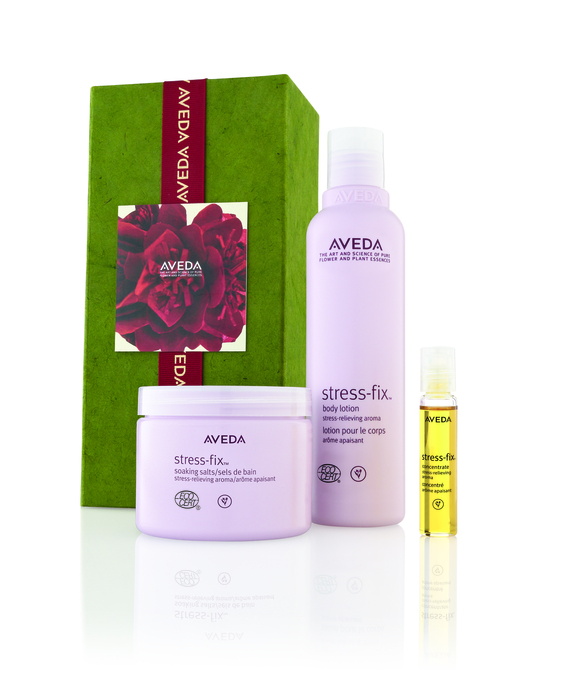 Give a Remedy for Stress
Melt away holiday stress with a gift featuring Aveda's newest body care line – Stress-Fix. The ECO-CERT certified organic line offers an aroma containing lavender, lavandin and clary sage that helps to relieve feelings of stress. Erase the feeling of standing in queue lines ladened with bags by soaking into a bath full of our Soaking Salts. Each tub is bursting with 100% organic ingredients that are traceable from Soil to BottleSM. Finish this heavenly bath experience by indulging each pore with our Stress-Fix Body Lotion and top with a dash of oil from Rollerball; which will leave you relaxed and refreshed from day to night.
What's inside: Stress-Fix Body Lotion, Soaking Salts and Rollerball.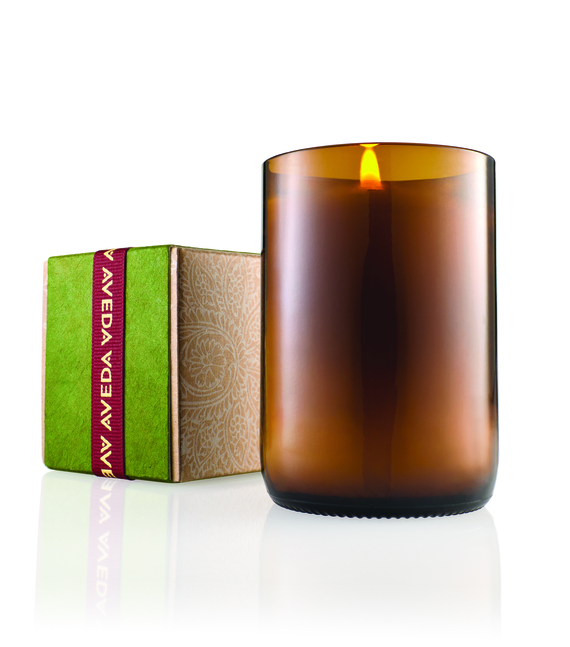 Share Holiday Warmth & Light
Enjoy over 40 hours of light this festive season with Aveda's signature soy-wax aromatherapy candle, Holiday Warmth and Light, which features a warm and spicy new aroma of ginger, ginger lily and clove. Fill each room with light this Christmas and let this candle awaken your senses. Help us use nature to give back this Christmas.
What's inside: Holiday Soy Wax Candle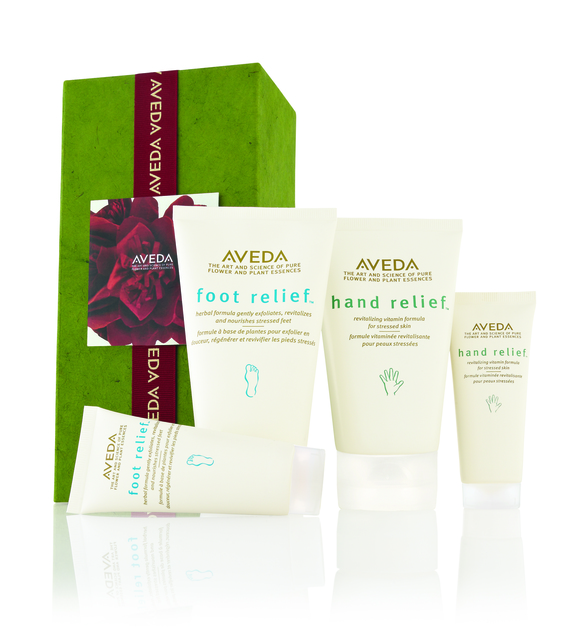 The Gift of Pure Relief
This Christmas smooth and soothe tired hands and feet with our targeted lotions featuring plant-derived ingredients like castor, jojoba and meadowfoam seed oils for intense moisturization. In sizes for both at-home and on-the-go. So wherever you find yourself this Christmas, make sure you have our pure relief range with you.
What's inside: Hand Relief ™ and Foot Relief™, travel-size Hand Relief™ and Foot Relief™.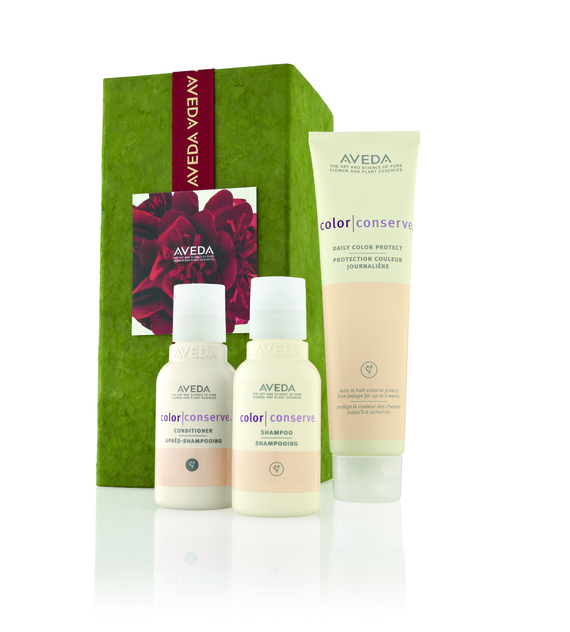 Gift of Vibrancy
Aveda is proud to offer you our Vibrance range this Christmas. The technology for Color Conserve is rooted in nature. Aveda's research and development team discovered that the flowering plant cistus, commonly found in Spain, generates its own natural substance to protect its leaves from the harmful effects of the environment. To help keep hair colour vibrant longer, Color Conserve uses plant-based ingredients such as babassu betaine – sourced from an indigenous community in Brazil – which provides gentle cleansing action that doesn't wash away colour. And to finish off this powerful trio we give you Color Conserve™ Daily Color Protect your multi-action product, Color Conserve Daily Color Protect infuses colour with moisture, enhances luminosity and is clinically proven to prevent fading for up to six weeks or 42 washes. Sleep well this Christmas, knowing, with our help, your hairs colours here to stay.
What's inside: Color Conserve Shampoo, Color Conserve Conditioner and Color Conserve™ Daily Color Protect