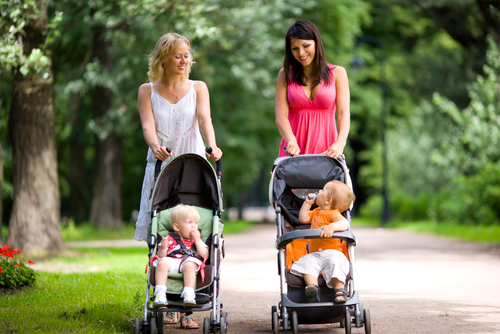 Although buggies and baby seats are used by the majority of mums and dads, new research shows that babies who are in them for too long, can end up with development problems.
Development problems are more likely to occur in babies who are in front facing buggies and prams because they spend less time interacting with parents, it was claimed.
According to experts, this can harm a child's performance in school later on in life and neuro-psychologist Sally Goddard Blythe thinks that children need 'opportunity for free movement and exploration, whether that is tummy time, cuddling or rough play'.
She believes that an interaction as simple as eye-contact helps a child's development and when children are in front facing buggies they are denied of this opportunity.
Mrs Goddard Blythe also said that the use of smartphones and tablets can cause the same issues because they don't allow parents to interact with their kids.
"If they are used in moderation there is probably no problem at all,' she said. 'There is perhaps a culture among a new generation of parents who don't know they should only be used as tools, rather than devices that you can keep a baby in for long periods," she said.
Previous studies have also shown that youngsters who had been pushed in rear-facing prams had better language skills than those who used the forward-facing buggies.