As a mum, having a professional hair treatment is a rare luxury. Spa hair treatments not only take up a good chunk of the day but do not come cheap. So if you don't have the time or money to be giving your hair this pampering, Pantene Pro-V can do the exact same job. A group of spa clients were invited to experience a spa-inspired hair treatment and discovered that Pantene Pro-V delivered the same smoothness as a luxury €70 spa hair treatment.
Stoke Park Spa by SPC, set in the world renowned Stoke Park in the Buckinghamshire countryside, known for offering a truly indulgent and decadent spa experience were so impressed by the results of this test, they now recommend the iconic Pantene Pro-V Smooth and Sleek collection.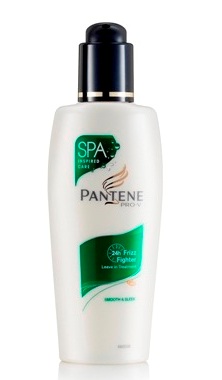 Pantene Pro-V's best selling range, Smooth & Sleek, has a new addition to the fold; the Spa Inspired Smooth & Sleek 24h Frizz Fighter. With its non sticky formula which has been proven to help fight hair frizz, brought on by humidity for up to 24 hours, it is set to be the beauty cognoscenti's 'must-have' product for summer 2011.
The rich and creamy formulas of Pantene Pro-V help to achieve 'spa-healthy' hair every day, leaving hair that is silky smooth to the touch. The delicate scents of lily, rose and jasmine help to calm the senses and transform the bathroom into a slice of heaven. So after a tough day running after the kids, you can create a spa-like environment in your own bathroom and relax and unwind.
Pantene Pro-V Smooth & Sleek Shampoo RRP €2.99 (250ml)
Pantene Pro-V Smooth & Sleek Conditioner RRP €2.99 (200ml)
Pantene Pro-V Smooth & Sleek Intensive Treatment RRP €5.49 (200ml)
NEW Pantene Pro-V Smooth & Sleek 24h Frizz Fighter (leave in treatment) RRP €5.49 (50ml)
The Pantene Pro Smooth & Sleek is available at all good supermarkets and pharmacistsnationwide; pricing is at the sole discretion of the retailer.