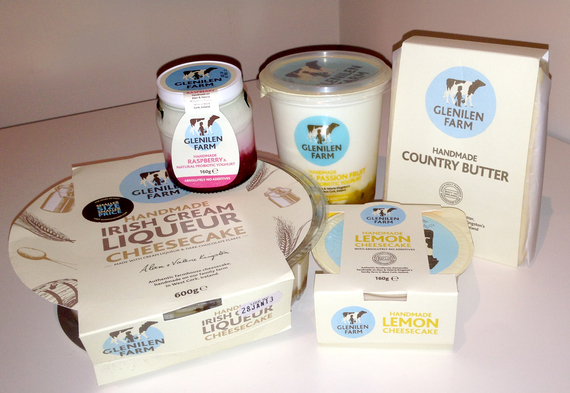 Glenilen Farm is a dairy farm based in Drimoleague, West Cork, owned and run by husband & wife team Valerie and Alan Kingston. They produce a range of artisan dairy products. Their products contain absolutely no additives or preservatives, for a pure authentic farmhouse taste, and it shows. They also have plans to produce their own green energy using solar panels and possibly hydro-electric power in the future. This is a truly inspirational, forward thinking company.
We sampled some of their products and are happy to report that they stand head and shoulders above the mass produced dairy products that share fridge space with them in the supermarket.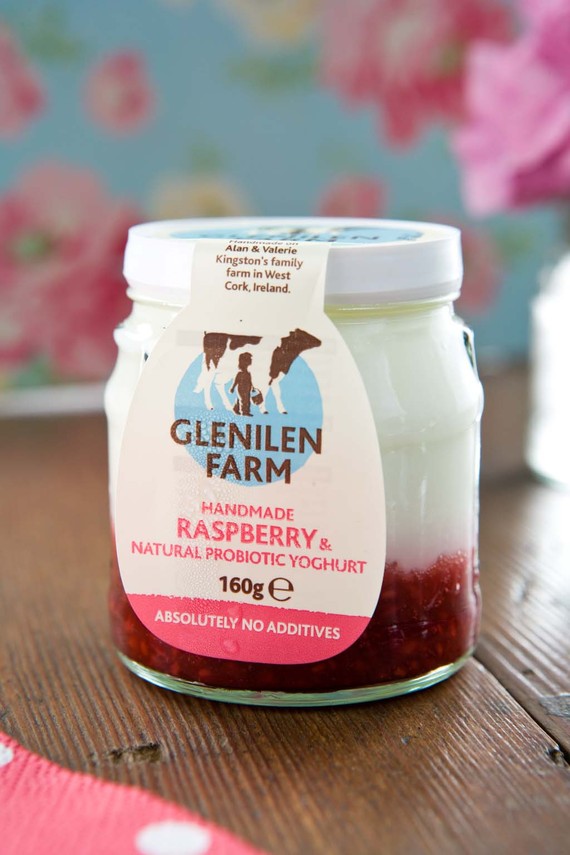 Yoghurts.
The yoghurts are truly delicious. The individual yoghurts come in adorable little glass pots with the fruit layered at the bottom and the yoghurt on top. They weren't particularly sweet and when I looked at the label to check the sugar content I was pleasantly surprised to see that they contain only 7% sugar. We tried them out on the kids too to see how their taste buds reacted to the low sweetness-quotient and they loved them.
Individual pots (160g) are available in the following flavours: strawberry, raspberry, plum, rhubarb, mango & passion fruit and natural. (139 Kcal per pot and 2.7g saturated fat per pot).
Large pots (500g:) strawberry, raspberry, summer berries, apple & blackberry, natural. (87 Kcal and 2g total fat per 100g).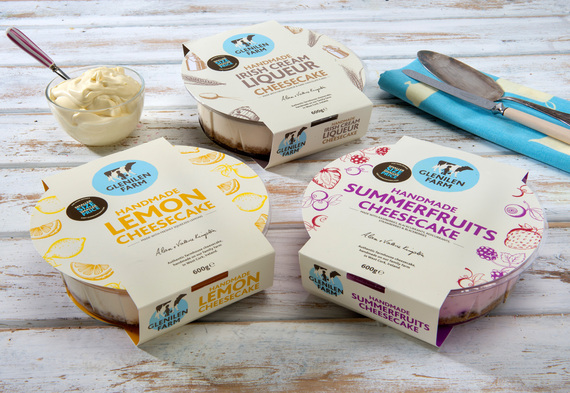 Cheesecakes. We also tried the cheesecakes. It's a hard job – but someone has to do it! We tried the Summer Fuits (individual serving 160g) and the Irish Cream Liqueur Cheesecake (large 600g). We loved them both. We found that the topping was light and fluffy, not cloying and heavy like many other cheesecakes. The biscuit base was could have been a little crunchier but this is very difficult to achieve in a product like this. The larger cheesecake has a pop-up base which means you can transfer it to a serving plate without damaging it. Very clever. It makes an ideal quick dessert for those in a hurry and has a genuinely homemade taste and feel to it. You could even pass it off as your own!
While this is an indulgent product, we compared it to a Mars bar and it came out very favourably. If you are going to treat yourself, we'd recommend you choose this all natural Irish dessert.
Glenilen Cheesecake 100g: 220kcals, 13g fat.
Mars Bar 100g: 448kcals, 17.4g fat.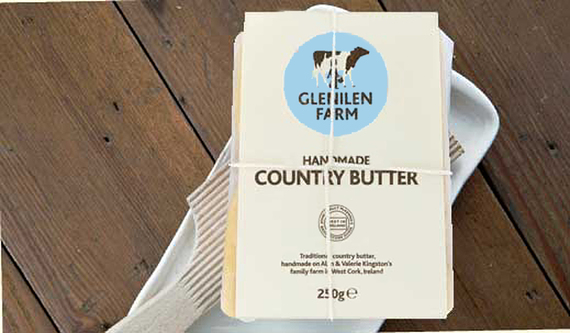 Butter.
Lastly, we tried Glenilen Farm Butter. This is made in a traditional type butter churn, from sweet cream and is slightly salted using sea salt flakes. This butter harks back to traditional Ireland where families made their own butter on the farm daily. I tried it on toast. A little slice of heaven. We are all trying to cut down on saturated fats but sometimes you need a really good butter. This is it.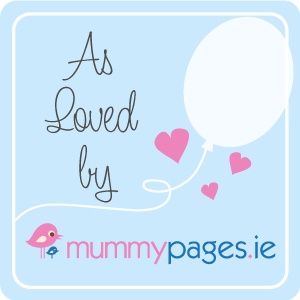 And finally, it is worth mentioning the beautiful packaging. Each product looks like a work of art. Recently redesigned, the look and feel of the Glenilen brand gives you a sense of purity and quality. When you open your fridge door the sight of any of their products will give you the feeling that you are giving something good to your family.
For more info or to check out the full range of products
click here