In the interest of research and helping our readers to make an informed choice (and sitting down and scoffing lots of Christmas Pudding) we conducted a blind taste test of supermarket brand Christmas Puddings, scoring them on appearance, texture, flavour and overall preference. We also added a branded Gluten free pudding, which is widely available in supermarkets.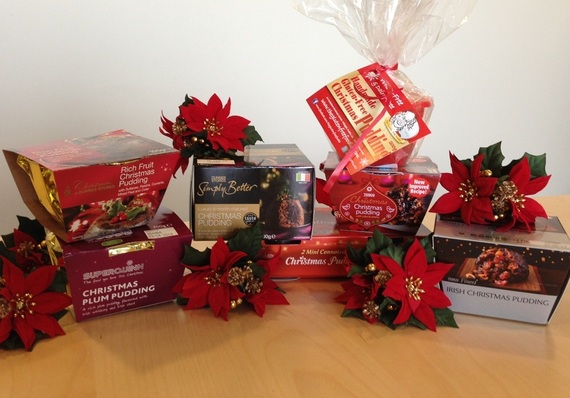 The Contenders
1. Dunnes Store regular brand - €3.99 454g (8.11 per kg)
2. Dunnes Stores Simply Better - €6.99 454g (8.79 per kg)
3. Superquinn - €9.99 900g (11.10 per kg)
4. Aldi - €5.49 750g (7.32 epr kg)
5. Tesco regular brand - €3.19 454g (7.03 per kg)
6. Tesco Finest - €7.36 908g (8.11 per kg)
7. The Gluten Free Foodie - €9.75 454g (21.48 per kg)
(All prices correct at time of publishing)
Appearance:
Most of our panel were in agreement about appearance. We liked the puddings which held their shape, but didn't appear too solid. Two looked quite rubbery and unappetising. One of our puddings appeared very sticky and sloppy and slid apart on the plate. Our tasters were reluctant to try these three, but they bravely battled on.
Texture:
The puddings varied widely in texture. 'Too much fruit' was the biggest complaint. Some of the puddings were regarded as lumpy and soggy. Some had great big chunks of peel, whole slices of almond and one even had whole glacé cherries. Our tasters liked a better balance between the amount of fruit and cakeiness (is that a real word?) and we liked the fruit and nuts chopped into smaller pieces. We all preferred puddings that crumbled a little when we dug in.
Flavour:
Unexpectedly, the flavours varied widely. Some tasters didn't like the puddings with a strong boozy flavour – others did. One pudding tasted too much of cinnamon. Some were regarded as too suety. Our lowest scoring pudding was described as having a 'weird after taste'.
Who Won?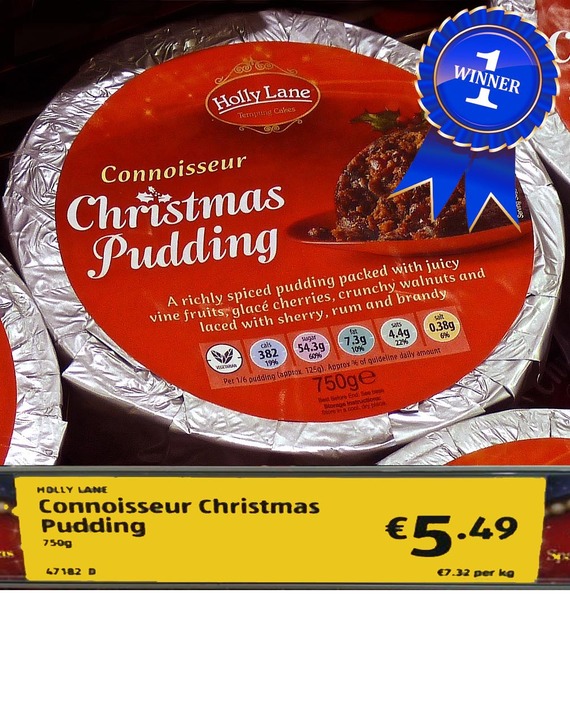 We decided that each taster would score their Top 3. It was a close run thing, but we had clear winner.
Interestingly, the luxury Puddings didn't score well, and the value Puddings ranked highest.
The winning pudding was also the 2nd cheapest.
It scored first place with 3 of our 6 testers and ranked in the top 3 with everyone else.
3rd Place: Dunnes Stores regular brand
2nd Place: Tesco regular brand
And the winner is... Drum roll...
1st Place: Aldi 750g €5.49