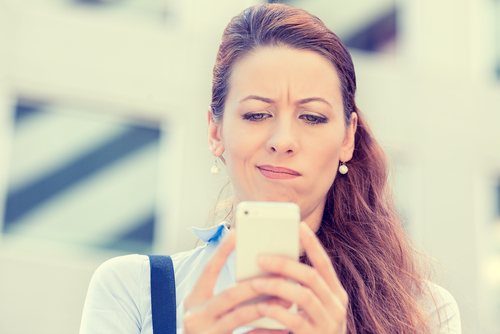 You might not be able to leave the house or even a room without it without thinking that you are missing an arm or a leg, but it's really time to put the phone away – because it's playing havoc with your skin.
It may help to keep our social life active but it is not doing your skin any favours.
It's giving you lines
If the text on your phone is too small you will find that you are squinting and furrowing your brow to read them leaving you with crow's feet and lines on your forehead.
Can make you look older than your years
When you are talking on your phone for long periods of time your phone can get pretty hot. And all this heat can damage your skin cause brown spots and make you look a lot older than your years.
It's causing breakouts
Did you know that when you are talking on your phone and pressing it up against your face you are transferring bacteria from your phone onto your skin causing breakouts, spots and sometimes even rashes.
It's making you look drained
The blue light that your phone emits can interfere with your natural sleep cycle causing you to wake up tired and looking like you could do with a few hours longer in bed.
While we're not telling you to put your phone away for good, a quick wipe with an antibacterial cloth once a day, not pressing it against your face when you are talking on it, keeping conversation to a minimum, enlarging the text size and avoid the midnight scrolling are all simple changes that will make a huge difference.