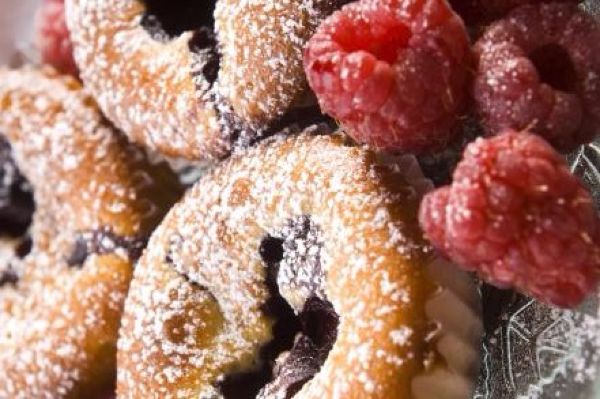 You simply have to try these lovely individual chocolate brownie cakes with raspberries!
The perfect weekend treat for you and the kiddos.
Main ingredients:
Dairy, Flour, Chocolate, Fruit, Eggs, Sugar
What you'll need:
175g butter, chopped, plus extra for greasing
200g dark chocolate, chopped
250g soft light brown sugar
1 tsp vanilla extract
85g plain flour
50g cocoa powder, plus a little extra to serve
¼ tsp baking powder
Pinch of salt
3 large eggs, beaten
200g raspberries
Confectionery sugar, for dusting
What you'll do:
Preheat the oven to 180°C / 350°F / Gas mark 4.
Butter 12 holes of a deep muffin tray and line each hole with muffin cases.
Put the butter, 150g of the chocolate, sugar and vanilla in a heatproof bowl, over a pan of barely simmering water.
Heat, stirring now and again until everything is melted, then remove from the heat and leave to cool.
Sift in the flour, cocoa, baking powder and a pinch of salt together in a large bowl.
Add the warm, melted chocolate mixture, the eggs, cherries and the remaining 50g of the chocolate to the dry ingredients, then mix until just combined.
Divide the mixture between the holes of the muffin cases, making sure each one gets a few berries.
Bake for 15-18 minutes or until cooked but still gooey in the centre.
Leave to cool for 30 minutes in the tin before transferring to a wire rack to cool completely.
Top them with a dusting of sugar and extra some extra raspberries on top if you like.