Help children young and not so young make their own breakfasts, lunches and dinners: safely and with yumminess guaranteed with the new cookbook "Recipes from Chop, Cook, Yum" from the Cool Food School founder and author Deirdre Doyle.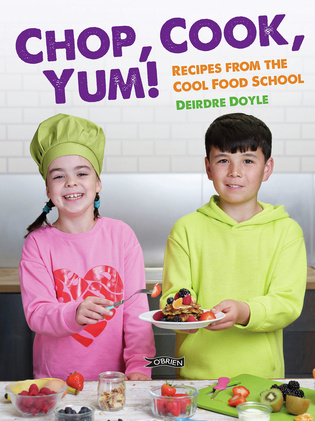 From Morning Munchies to Yummy Dinners, Snackalious quick bites to Lunchbox Fillers, packed with over fifty tried-and-tested, easy-to-follow recipes. Cooking is a pizza cake with this uniquely Irish cookbook for kids!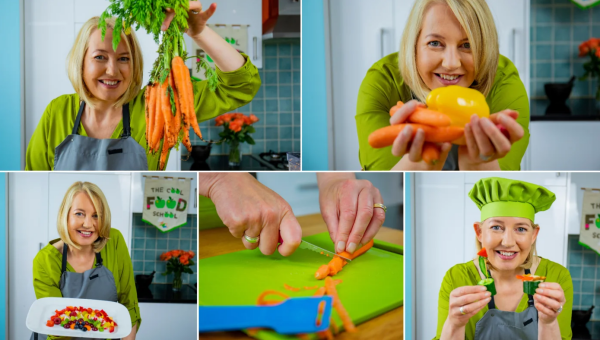 This dessert is really easy to make and requires no baking. It's especially nice with Wexford strawberries on top. Grab a copy of her book now from all good bookshops nationwide or from the Cool Food School website.
Big Brain Cheesecake with Wexford Strawberries
Prep time: 15 minutes
Cooking/Baking time: 2–3 hours
Serves: 3 children and 3 adults
Stuff you'll need
Measuring cups and spoons
Blender
5/6 individual ramekins or 8-inch (20cm) pie dish
Ingredients:
For the crust
1 cup pitted dates (dates with no stones)
1 cup mixed nuts (walnuts, almonds, cashews)
3 tbsp cacao powder
2 tbsp desiccated coconut
2 tbsp coconut oil, melted
For the filling
1 cup cream cheese (a full 200g pack)
1 cup Greek yoghurt (full-fat)
1/3 cup maple syrup
2 tbsp cacao powder
1 tsp vanilla extract
handful dark chocolate chips
Wexford strawberries to decorate
How to make it the crust
Pop the dates, mixed nuts, cacao powder, coconut and melted coconut oil into a blender and blitz till the mixture comes together into a ball like dough.
Divide this between each of the six dishes and smush it down until it's flat. Or pop it into the pie dish and, using the back of a spoon, press it down into the dish.
Put this in the fridge while you make the filling. Wash your blender!
How to make it the filling
Blend all the ingredients for the filling (except the chocolate chips and strawberries) for a couple of minutes until everything forms a nice creamy mixture. Add the chocolate chips and mix through the filling.
Spoon on top of the base and put in the fridge for a couple of hours.
Just before serving, decorate with some sliced strawberries. Yum!
Note
You will need to take extra care with this recipe because you may be using a knife or grater, cooking on a hot stove, or using the oven. You should get an adult to help you with these tasks.
Recipes from Chop, Cook, Yum! – Recipes from the Cool Food School by Deirdre Doyle is Published by The O'Brien Press with RRP of €14.99/£13.99.