We are teaming up with Dulux and RTE's Design Doctors to show how you can beautifully redecorate your home for a fraction of the price.
On this episode of Design Doctors, the team had to bring modernity to a family home whilst making it a child friendly space.
Ger and Mick have recently relocated their growing family to Tipperary, as Mick took over the family dairy farm. They moved into Mick's parents' house, and were keen to update the décor and put their own stamp on the home. With one very active toddler and a baby on the way, there was a very real deadline to get the home ready for the new arrival.
Ger is a keen photographer and loves design, but was at a loss as how to update the home to give it an authentic country rustic feel by herself. On a strict budget the couple were willing to do as much of the work as they could themselves to keep costs down.
Without knocking walls, the designers were keen to use what the farm has to offer, so from reclaimed wood to an old swing-set that was fashioned into a chandelier, the designers got clever with paint to create the wow factor without breaking the bank.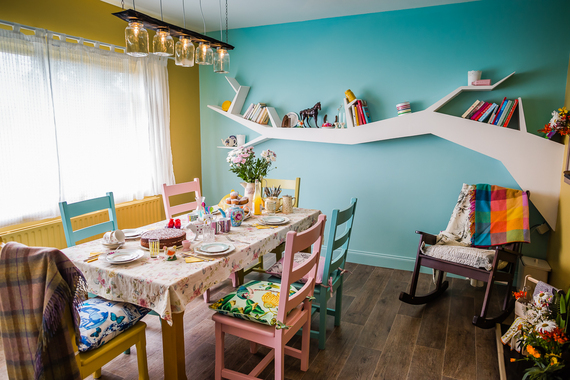 Why not give a room in your home a refresh using this beautiful colour and design theme. You can easily recreate this look in your own home and completely update a room with some bright colours like this and a few key accessories. See how to get the look for under €400.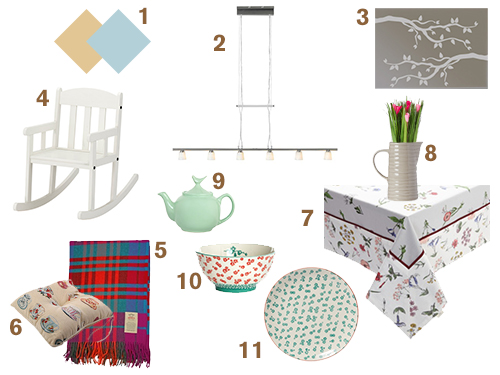 1. Aqua Blue in Kitchen - 90GG57146 Vinyl Soft Sheen 2.5L RRSP €31.50
Yellow in Kitchen – Pure Bumble Vinyl Soft Sheen 2.5L RRSP €31.50
2. Light: TIDIG Pendant lamp €70 - IKEA
3. Wall Decal: Grey Branch With Leaves €34.99 – AllPosters.ie
4. Rocking Chair: SUNDVIK Rocking Chair €35.00 – IKEA
5. Throw: Star Lambswool Throw €59.95 – Avoca
6. Chair Cushions: Tapestry Seat Pad Cream x 6 €60 – Heatons
7. Table Cloth: Carolyn Donnelly Eclectic Botanic Tablecloth €25 – Dunnes Stores
8. Jug: Paul Costelloe Living Camille Jug €12.00 – Dunnes Stores
Flowers: TARNA Dried bouquet, pink €6.00 - IKEA
9. Teapot: Carolyn Donnelly Eclectic Bird Teapot €15 – Dunnes Stores
10. Bowl: Carolyn Donnelly Eclectic Blossom Bowl €5 – Dunnes Stores
11. Plate: Carolyn Donnelly Eclectic Blossom Side Plate €5 – Dunnes Stores
Watch Design Doctors on RTÉ One, Thursday at 8:30pm