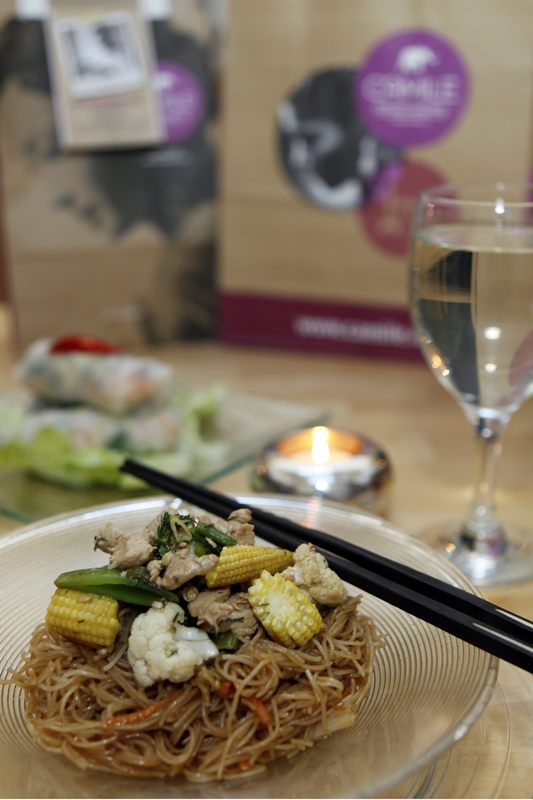 On those occasional evenings when you simply cannot handle cooking and want a convenient take away as a treat, Thai food is always a great option. Camile is a wonderful Thai take away with several locations in Dublin, and they recently added a new limited edition dish created by Michelin star chef Kevin Thornton to their take-out and delivery menu.
This dish won't be available until Monday 16th July but MummyPages had a sneak preview and tried it out. Inspired by the Thai street food he enjoyed on his travels in Mae Chan, Kevin's dish features chicken marinated in ginger, lemongrass, garlic, chilli, spices and citrus zest, cooked up in a complex Thai style sauces, with a last minute addition of crisp vegetables and fresh herbs. Served with noodles, this dish will be delivered to your home within minutes of ordering so as to guarantee the dish is served at its freshest.
This delicious dish is a wonderful family dinner option as it is far healthier than other heavier take away meals. It is bursting with flavour from the very first bite and will leave you feeling full and satisfied. The noodles are wonderfully fresh while the vegetables are very crunchy, adding a bit of bite to the dish. The portion size is more than generous, especially for the noodles, so you might only need one portion of noodles between two people. The herbs in the dish really add a fragrant flavour to the meal, however make sure you check your teeth after –we looked like we'd been eating the garden once we finished!
We were also given Camile's signature starter of fresh salmon paper rolls Po Pia Sot. While we really enjoyed these large paper rolls, they may not be to everybody's taste. These rolls feature wasabi mayonnaise that adds a real kick, and this is uniquely combined with salmon and baby spinach leaves. Kids would probably not enjoy this starter so maybe stick to something a little safer like spring rolls. However if you want something a little different for the adults, this is a great choice.
We would definitely recommend Camile as a family take away option. The food is tasty and there is plenty of choice to keep the whole family happy. There is a lovely kids menu available and there is also a 'double size for sharing' offer on curries for €15.95, making your Thai take-out far more budget friendly.
If you would like to try out Kevin Thornton's new dish (available from Monday 16th July), or anything else on the Camile menu, simply call your nearest Camile or visit their website
www.camile.ie
to place your order.