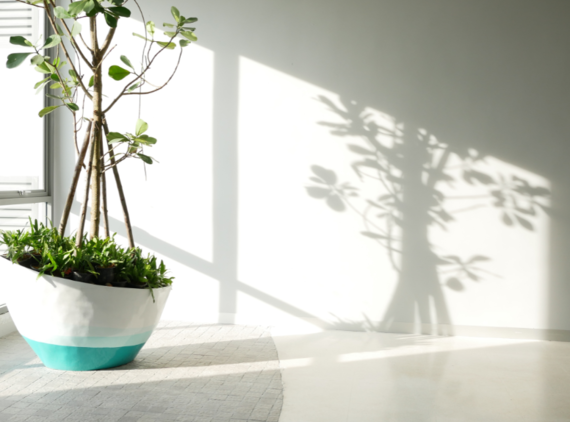 My husband suffers from allergies, I don't, but I do often find the air at home (or indeed in the office) quite stuffy and I often worry that it's not healthy or helping my DH.
I have bought the customary house plants that are meant to keep the air fresh, and whilst opening the window might freshen the place, it doesn't actually do very much in terms of allergies.
Luckily for me, I was recently given the opportunity to test the latest air purifier from Dyson – enter the Dyson Pure Cool. And even luckier for me was that I got to test it during the recent heat wave.
I've never owned a fan or purifier, so I did wonder if it was going to do any good – and in answer, it did. It was flippin' brilliant.

Aside from offering a wonderfully cool air in an awfully over heating house, I really did notice a difference in the air in general; it was so much less stale and we had only been using the purifying fan for a short time.
Critically (for me anyway) it couldn't have been easier to set up and use. I'm not one for instructions, and with this one, you really didn't need any. It's very much plug and play. Or click in (the air filters) and go. I haven't used the app yet, but I believe it's equally as simple – and with the app you can do nifty things such as track data on how clean the air is over time, which is a great option.
The unit itself is slick and attractive looking, it doesn't take up a huge amount of space, and there's a remote control allowing you to change settings from the the comfort of your sofa. The remote then sits neatly on top of the unit when not in use, which is ridiculously handy, and a lovely design feature – only what you'd expect from Dyson I suppose.
Dyson claim this unit will capture allergens, pollutants and gases, and offers a night-time mode using quiet settings and a dim display. All very impressive. So did it work for us?
The answer is yes, I really believe it did. Since we started using it, my husband's allergies have reduced significantly, and noticeably so; there are less bouts of sneezing, blocked noses and generally itchy and scratchy behaviour. And this alone is enough of a reason to invest in the Dyson Pure Air. Something that actually does EXACTLY what is says on the tin.