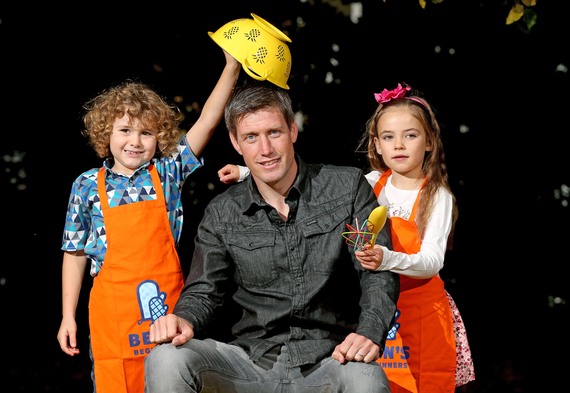 Munster man Ronan O'Gara has definitely had a whirlwind 12 months. As well as retiring from professional rugby last year and moving to France full-time, the former fly-half also welcomed a fifth child, Max, back in April.
"Some people think I've a great social life out here," he said of setting up home in Paris with his wife and children. "But for us it's a good night if we've one kid in the bed instead of three."
The family man said it's his wife of eight years Jessica who keeps things going smoothly for the couple, who have five kids under the age of seven. "She's a full-time mum and keeps the show on the road. She makes it look easy," said Ronan.
The O'Garas waved goodbye to their hometown of Cork last year, and Ronan says they've had very little time in Ireland since. "It's impossible, really," he said. "I get very few days off."
Life in Paris seems to suit the family, though – especially six-year-old twins Rua and Molly who are already speaking French fluently. "Their ability to learn and adapt to change is amazing," said the doting dad. "Last week we had a birthday party for the twins with eighteen kids from their class, and everything was in French. We were blown away."
Even with a busy coaching career on the go, Ronan still makes a point of spending quality time with his little ones. He's been announced as the leader of the Ben's Beginners campaign with Uncle Bens, which encourages parents to get cooking with their kids at dinnertime.
"The easy option in the evening is to dial a takeaway or throw a pizza in the oven, but I believe that the younger you learn about nutrition, the better," said Ronan. "Our kids love doing jobs in the kitchen – even just getting stuff from the fridge and helping out in small ways."
As a former rugby star, Ronan knows the importance of eating well. "Jessica and I like to keep things simple but healthy," he said. "I think parents should get a thrill out of educating their children about cooking and food."
To inspire families to get started in the kitchen, the Ben's Beginners programme will kick off with an online cookery contest. Entrants must create a child-friendly rice recipe and upload it to the
Uncle Ben's Facebook page
. The winning dish will be chosen by Ronan himself, and the lucky family will receive a €5,000 cash prize, plus a €10,000 donation for their school to fund a healthy initiative.