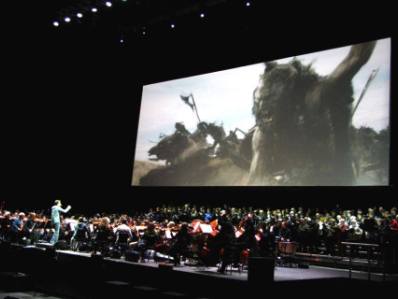 Here at MummyPages, we are all big fans of The Lord of the Rings movies and even remember reading the books once upon a time which is why we were delighted to hear The RTÉ Concert Orchestra have just announced their performance of The Lord of the Rings: The Return of the King on Sunday 27 October 2013 at the O2, Dublin. Tickets go on sale via Ticketmaster on Friday 12 July 10am priced €39.50 to €69.50 (additional service charges may apply).
This will be the third performance by The RTE Concert Orchestra of the music from The Lord of The Rings, following the phenomenally successful The Fellowship of the Ring in 2011 and The Two Towers last year, the full RTÉ Concert Orchestra and chorus now perform to the final epic fantasy film in the Lord of the Rings trilogy. Released 10 years ago, The Return of the King was critically acclaimed, broke box office records and won all 11 Academy Awards for which it was nominated, including Best Original Score and Best Original Song. Now, beneath an immense screen, the RTÉ Concert Orchestra and singers will bring Howard Shore's music of Middle Earth to life in what promises to be an unforgettable occasion and a fitting climax to the orchestra's presentation of this trilogy to Irish audiences.
The RTÉ Concert Orchestra has had a special place in Irish musical life for 65 years, with a range that sees them equally at home in classical, opera, jazz, film, rock and traditional music. In recent years the RTÉ CO has developed a popular series of film screenings with live performances of the orchestral score. Highlights of these screenings to date have included The Wizard of Oz, Casablanca, Psycho, Bugs Bunny on Broadway and of course the screenings of the two previous massively successful Lord of the Rings films.
So for a great night out that the whole family are sure to enjoy, look no further than The Return of The King in concert.
Early booking is advised.
Sunday 27 October, O2, Dublin, 7.00pm
Tickets: €39.50–€69.50
Ticketmaster: Tickets from Ticketmaster outlets nationwide. 24 hours: 0818 719 300 or visit
www.ticketmaster.ie