Inflation has been affecting everyone recently, especially when it comes to doing our weekly shopping. It seems like the prices of even essential items have risen, making it harder to keep shopping prices down. Budgeting is becoming more stressful which is why vouchers and coupons are becoming more and more important to include in your weekly shop in order to save money. Shoppers will be happy to know you can now save even more at Supervalu as they launch their new Real Rewards programme that features weekly money-off vouchers, coupons and monthly 'scan to win' prize draws.
After extensive customer research, Supervalu has launched its updated Real Rewards programme and the arrival of a much-improved app available to download for iPhone and Android users, which is packed full of great savings that you can use every week.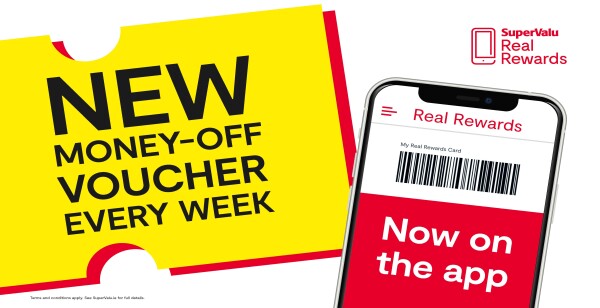 The real Rewards program includes huge benefits such as:
-Weekly money-off app vouchers
-Weekly coupons
-Monthly 'scan to win' prize draws
Supervalu listened to its shoppers and tailored this programme to suit the needs of the customers. Following an in-depth survey of customers, many said it would be useful for them to receive more predictable rewards to allow them to plan their weekly shop and use regular money-off vouchers every week on their app.
With this in mind, Supervalu created new money-off vouchers for customers to see in advance of going shopping in store or online at supervalu.ie.
So, whether you do a full weekly shop there or just pop in for a few daily essentials, you will be able to use the new Real Rewards app to access the money-off vouchers and coupons to help you save more every time you do your shopping. All you need to do is scan your app in store or when shopping online to be rewarded with new money-off vouchers and coupons every week.
To make it even better, customers who scan their app or card in-store or online can enter a monthly prize draw to win national and local prizes. There are 10 national prizes up for grabs across Ireland including:
-A year's free shopping with Supervalu
-€2,000 Supervalu e-gift card
-€500 LifeStyle Sports voucher
-€500 Penney's voucher
There is also the chance to win a €100 Supervalu e-gift in every store, every month. How super is that!
For more information on Real Rewards visit supervalu.ie/rewards or download the Real Rewards app from the App Store for iPhone or the Play Store for Android users.