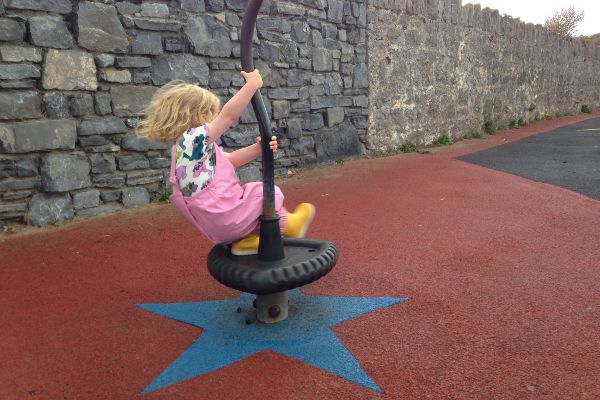 morning Little P was thrilled to have the entire playground to herself. She was dizzy with choice, running from slide to swing to roundabout and back again. There was a soft drizzle falling and the only sounds were the seagulls and the waves. As I watched her play I realised that this is probably our last free September. Next year she will be old enough for preschool and then our Septembers will become all about back to school.
I like September; it always feels full of possibility and fills me with the thrill of expectation. As a child, I mostly enjoyed school and looked forward to returning after the summer holidays. I used to get so excited about my new school books and uniform. But for some reason, I feel a resistance about sending Little P to school. I realise I have the usual reluctance that most parents have about letting go of the baby years. A sadness about the passing of time and children growing older. But there's something else niggling away at me, something more than that.
I know that that there are many positives about school. Making friends, learning to cooperate, feeling part of a team and that's before I even get to the educational benefits. But now that I have my own daughter I feel the need to question the fact that she'll go to school rather than just accepting it as the status quo. Although I enjoyed lots of elements of school I can also remember the relentless routine. I distinctly remember feeling trapped by that routine. Some days I really wanted to play outside, stay with my mum or just do my own thing. The pace of learning didn't always suit me either. Too much time spent on the subjects I found easy or didn't enjoy and not enough time on the ones I found difficult or did enjoy. Art was my favourite and it was frustrating as a child to be interrupted in the middle of painting to move on to maths or Irish. There never seemed to be enough time to get into a subject in any real depth, particularly in a large class with a busy teacher.
Perhaps conventional school isn't necessarily the best option for every child. Some children are just suited to a different way of learning. Maybe they need more time or less time, maybe they're visual learners or more physical learners. Maybe they learn better when left alone. Schools have evolved to function in the best way to suit the majority of children. They obviously need to work effectively for large groups. Our education system, with hardworking and dedicated teachers, delivers incredibly well teaching the curriculum. But it's often not possible to include everything in that curriculum and certain things are inevitably left out. Things like problem-solving or critical thinking, risk-taking or decision making, even creativity. Sometimes there just isn't the time or the resources or maybe there are certain things that simply can't be taught in a classroom environment. School is limited because it is such a static environment. A classroom can't recreate the dynamics of the real world going on outside the windows. Could children learn more valuable lessons out there?
But even as I write this I know that these are the words of an idealist, a dreamer. The truth is that when the time comes Little P will probably head off to school just like most of her peers. We need to make a living just like every other parent and what other options do we have? The time required for home education seems like a luxury that is just not within our grasp. Maybe in the future education and work will both become more flexible. Time in the classroom could be combined with projects completed at home or outside in the real world. For learning is something organic that doesn't start or end at the school gate. I realise that I'm learning just as much, if not more, from my daughter as she is from me.
So my words may seem a little impractical, even dreamy, but whether my daughter goes to school or not I hope that she'll still grow up questioning the status quo. Just like her mum.