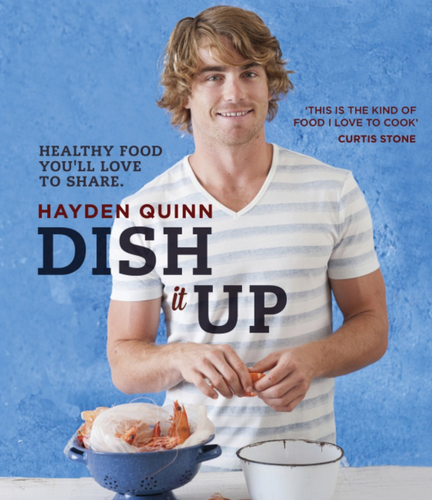 ​Masterchef Australia star Hayden Quinn returns to the kitchen to give you fresh, healthy food that is easy to prepare and share.
Admitting that this book, which he dedicates to his mum and dad, was a "real process and massive learning curve", he says he didn't just want to share recipes, but also his own stories, photos and the special people who have impacted his life in some way.
Packed with punchy flavours from around the world, Hayden's cookbook includes energy-packed breakfasts, travel-inspired street food, backyard feasts and special occasion meals to share with family and friends.
The Masterchef star's dishes include mouth-watering Bali-style pancakes, baked Spanish eggs with Jamon and his DIY Pad Thai and delicious roast miso aubergine. The recipes in Dish It Up are easy to navigate and come complete with helpful hints on cooking techniques and the best places to source key ingredients.
Hayden is a lover of food, travel and culture, and growing up in Sydney's Northern Beaches he was never far from the beach – so you know you are in good hands with this cookbook. And his book is a true reflection of just how passionate he is about food and cooking. In fact, he is so confident that you will love everything you make that he has included links to all of his social media accounts – so let him know how your dishes turn out.
Through his recipes, Hayden shows that food is not simply a means to fuel us, but as he writes: "For me, food is all about evoking different feelings, memories and creating nostalgia".