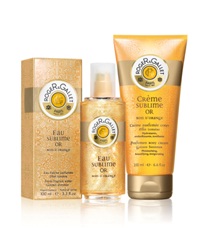 Summer is here and with it comes the desire for healthy glowing sun kissed summer skin. Whether basking in the glorious Irish weather or relaxing on a beach in a far off exotic destination, ensure your sent delights and your skin shimmers and shins with Roger&Gallet Sublime Or Collection
The sophisticated scent of Eau Sublime Or is a combination of bergamot, orange and melon along with cedar, coco and lisylang while the citrus water also leaves the skin with a delicate golden shimmer. Eau Sublime lightly fragrances your skin, while also highlighting and accentuating your skins glow this summer.
Crème Sublime Or is the perfect luxurious body care treat and accompaniment to the scent above. With its generous texture it is quickly absorbed by the skin, resulting in a velvety finish while also deeply moisturising the skin after the sun exposure. The delicate gold flecks settle on your skin with a subtle shimmer, beautifying the skin with radiance which will ensure your summer glow shimmers all summer long.
So why not treat yourself or a special friend this summer with the gorgeous gift of healthy beautiful glowing summer skin with Roger&Gallet Sublime Or Range – and ensure your skin radiant's with you.
Available at selected pharmacies nationwide.