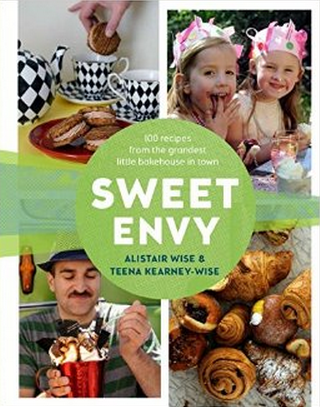 Written by husband and wife team Alistair Wise and Teena Kearney-Wise, Sweet Envy is jam packed with old-time sweets and confectionaries that are loved the world over.
This is their first book and is a compilation of recipes that they use in their very own Australian bakery, Sweet Envy. Offering old-time sweets and confections lovingly crafted in small batches, Sweet Envy is an old fashioned sweet parlour, cake shop and bakehouse rolled into one.
From their sticky pecan buns and flaky pork and fennel sausage rolls, to the perfect croissant and a seriously haute-couture cake with lashings of buttery icing, Sweet Envy has more than 100 recipes to delight bakers of all skill levels.
Throughout the book, Alistair and Teena share hilarious anecdotes about how each recipe came about, revealing a refreshingly anarchic sense of humour not usually associated with the sweet art of baking.
From their gluten-free hazelnut crème brulee to their bacon marmalade, you will be spoilt for choice in this easy-to-read, vibrant cookbook.
Alistair and Teena grew up and completed their pasty and bakery apprenticeship in Hobart, Tasmania. They went on to work in top restaurants in Melbourne, London and New York. Upon their return to Hobart, they received a call from Gordon Ramsay to open his New York hotel, The London, which received numerous awards for desserts and Best Bon Bon Trolley.
As the husband and wife insist, while baking is about organisation it can still be lots of fun.