Getting the family together for mealtimes can be tricky with after school activities and homework to contend with. But it's a good habit to start with the family, and as the evenings get shorter, now is a great time to start.
When everybody sits down together, you get to talk a bit more about what's going on in their life, and it also ensures everybody stops and slows down, even if its' just once or twice a week.
Keeping the evening meals simple means you'll have more time to enjoy each other's company, and you can even get the kids involved. Donegal Catch has put together quick and tasty recipes that are easy to prepare for all the family to enjoy including the latest additions to the Donegal Catch range including Fish Sticks.
The Donegal Catch frozen fish range is the perfect time saver, removing food prep, reducing food waste and encouraging families to increase their weekly consumption of fish, without having to compromise on taste.
Naturally high in protein, Donegal Catch Fish Sticks are free from artificial colours, preservatives and flavours, and are made with 100% fish fillets. Pack your freezer with the latest additions to the Donegal Catch range and you'll always have nutritious, quick, and easy lunch or dinner options.
Working closely with fish suppliers to bring great tasting fish and supporting responsible fishing practices, Donegal Catch is encouraging Irish households across the country to eat at least two portions of fish a week, with the help of top tips from dietician and mum, Orla Walsh, along with quick and tasty recipes that are easy to prepare for all the family to enjoy available from www.donegalcatch.ie/recipes/.
Fish Sticks with Stir Fried Vegetables, Rice & Sweet & Sour Dressing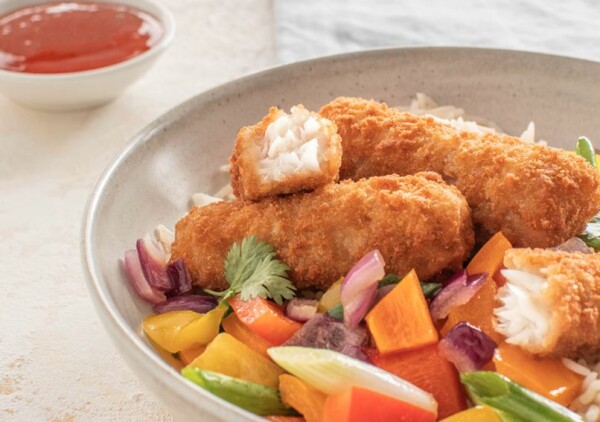 Serves: 3-4
Total time: 30 minutes
Ingredients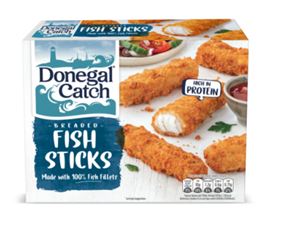 1 packet of Donegal Catch Fish Sticks
1 tablespoon oil
1 red pepper, deseeded and roughly chopped
1 orange pepper, deseeded and roughly chopped
1 yellow pepper, deseeded and roughly chopped
1 red onion, peeled and roughly chopped
2 garlic cloves, finely chopped
3 spring onions, chopped into 1 inch pieces
For the sweet & sour sauce:
1 tablespoon cornflour
1 tablespoon water
160 ml pineapple juice
80 ml rice vinegar
75 grams light brown sugar
3 tablespoons tomato ketchup
1 tablespoon light soy sauce
Method:
Begin by making the sweet & sour sauce. In a small bowl, whisk together the cornflour and water. Set aside. In a medium saucepan, combine the pineapple juice, rice vinegar, brown sugar, tomato ketchup, and light soy sauce and bring to a boil over medium heat. Stir in the cornflour mix and cook until thickened, about 1 to 2 minutes. Set aside to keep warm whilst you continue with the rest of the dish.

Pre-heat Oven to 220°C / FAN 180 °C / Gas Mark 6. Place the fish sticks on a baking tray on the top shelf of a pre-heated oven for 15-20 mins. Turn halfway through cooking time.

Whilst the fish sticks are cooking, add the oil to a large wok and add the chopped peppers and red onion. Stir fry for 5 minutes until soft and starting to char at the edges. Add the garlic and spring onions and continue to cook for a further 2 minutes then add half of the sweet and sour sauce and heat through.

Serve the vegetables on a bed of rice with the Fish Sticks on top and the remaining sauce on the side for dipping, adding some coriander leaves to garnish.
To serve: Rice, and garnish with coriander leaves
For more delicious recipes visit – www.donegalcatch.ie
BROUGHT TO YOU BY