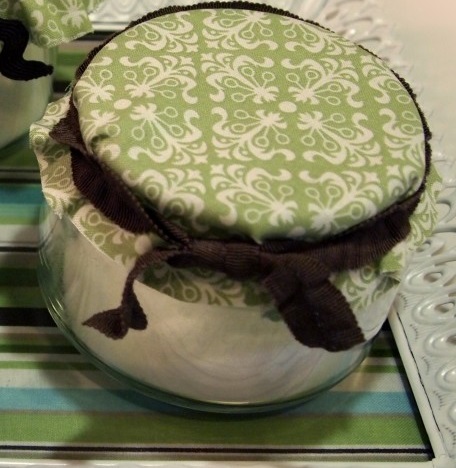 Air Fresheners:
Buying scented candles and branded air fresheners can add to your shopping bill, so why not try this cheap DIY alternative to add a nice aroma to your home. Not only are they adorable, but you'll also be able to save money and put those old jars to good use. All you need is baking soda and your choice of scented oil. Cover the top with a pretty piece of fabric and voila! Perfect for the bathroom or the entryway of your home. You can even place it next to the kitchen bin.
Tutorial:
Cheap Crafty Mama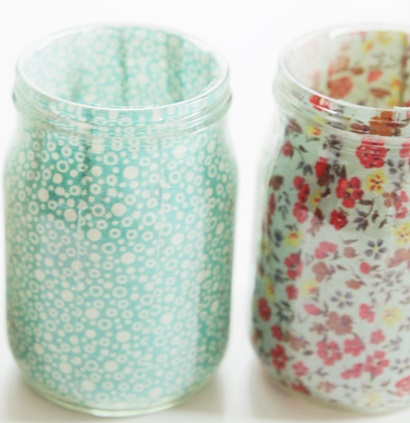 Place Settings:
Rather than spending money on new crockery, fancy tablecloths or elaborate centrepieces for a dinner party, you should grab your used sauce jars and create something pretty and unique to make your table stand out. You don't even have to wait for a big occasion - use them on a daily basis to make dinner with the family a little more special.
Tutorial:
Fellow Fellow
Glitter Candle Holders:
Jars have long been used to hold tea lights in order to add atmosphere to a room. While it's a nice idea, it can also be a boring one, so get creative and add some character to the jars. There are a number of tutorials available for decorating jars or staining them with pretty colours, but this one was our absolute favourite. The simple tutorial produces beautiful results and the jars can also double up as festive Christmas decorations.
Tutorial:
Cakerypapery
Dried Herbs:
Do you prefer to use fresh herbs but find they tend to go off quite quickly? Avoid food waste and follow these guidelines to dry out your herbs in the microwave. Rinse out your used jars and add a customised label so you know which is which. You can then store your herbs in the labelled jars on the kitchen windowsill and use them in your own time. Just make sure all the moisture has been taken out of the herbs before you store them away.
Tutorial:
Homegrown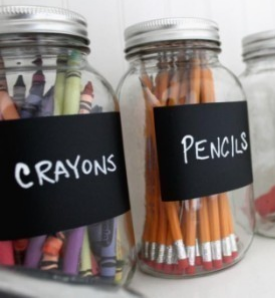 Desk Organisers:
Your child's desk can sometimes be the most disorganised place in the house – an explosion of markers, crayons, paint brushes and other arts & crafts tools. You could buy storage containers or you could avail of things you already have and clean out your old sauce jars. Print out some homemade labels, stick them on the jars and congratulate yourself for bringing some order to the situation. Eventually your child will get into the habit of tidying away their supplies (we hope!). You can even turn this into a craft project for you both to do together.
Tutorial:
Trift Core
Memory Jar:
Do you find the year passes far too quickly, leaving little moments and memories lost in the crazy bustle of family life? Clean out a jar and leave it on a shelf or counter in the kitchen, beside a notepad and pen. Scribble down the funny things or amusing observations your kids make during the day. Every few months, go through the jar and remind yourself what a wonderful family you have.
Tutorial:
Inchmark