Sunday's often mean pressure of cooking a huge, exhausting, family meal. And not just that, but having to make something that everyone will enjoy is often a step too far after a long week of juggling. Today, do yourself a massive favour and pick up the current M&S Family Dine instead of breaking out your apron! It's available in-store now where you can pick up two tasty mains and four flavourful extras for just €22 and save up to an incredible €23.70 – Mamma Mia!
This serves four Family Dine In is available until 12th July in all M&S stores. Enjoy a taste of Italy from the comfort of your home and feed the family with an Italian feast for just €5.50 per person which is a great a bargain.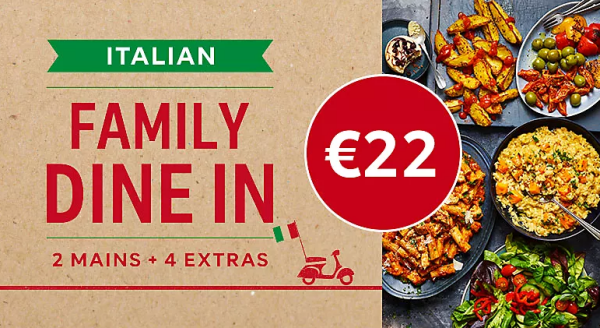 On the menu – Italian favourites including their new Chicken, 'Nduja & Mascarpone Rigatoni - an Italian pasta tossed in a spicy tomato & 'Nduja sauce with chicken and garnished with parsley and their new Spinach and Ricotta Ravioli - perfect parcels of egg pasta packed with spinach and ricotta cheese served in a rich tomato sauce, spinach and Santarella tomatoes.
On the side, they also have a huge selection of extras from new Mozzarella and Pesto Bites to sweeter treats like our Tiramisu - layers of Italian savoiardi biscuits, soaked with espresso, topped with a creamy mascarpone and marsala wine mousse which is finished with a cocoa dusting.
Sounds bellissimo to us! You can check out the full menu here.