As Jon Snow would say 'winter is coming', and the weather is seriously starting to cool down. The days are getting shorter and there is a noticeable chill in the air. Hello, perfect Autumn boots!
So when it comes to warm and wholesome dinners, packed full of nutrients, we want to use all the tricks to get those veggies into those little ones! Our best ideas? Hide them! We have compiled some of the best ideas on how to pack those sauces with nutrients to help your little fusspots get their greens. Just make sure you have a fabulous blender or veggie chopper to make your life easier and to get the most out of those lovely ingredients.
These are guaranteed to get a thumbs up from your little fusspots.
1. Creamy Courgette Soup
What you'll need:
1kg courgette, roughly chopped
500g potato, peeled and roughly chopped
1 bunch spring onions, roughly chopped
1 stock cube
100g grated parmesan, to serve
10g butter
Pepper to taste
What you'll do:
In a large saucepan, melt the butter and cook the spring onions for 2 minutes. Add the courgettes, potatoes and stock cube and cover with water. Bring to the boil and then reduce to a simmer. Cook for about 20 minutes, or until the vegetables are soft.


Next, blend using a good hand blender like this one from Bosch, and serve topped with freshly ground pepper and grated parmesan.
3. Cauliflower Bisque
What you'll need:
2 cups whole milk
2 1/2 cups vegetable stock
1 small head cauliflower, separated into florets
3/4 lb potatoes, peeled and chopped
1 small onion, chopped
2 cloves garlic, crushed
4 sprigs thyme
Salt and freshly ground black pepper
3 tablespoons unsalted butter
3 cups cubed ciabatta bread
1/3 cup heavy cream
1/3 cup pomegranate seeds
Chopped chives, for serving
What you'll do:
Combine the milk, stock, cauliflower, potato, onion, garlic, and thyme in a large saucepan. Season with salt and pepper and bring to the boil over medium-high heat. Next, reduce the heat and simmer, keeping it partially covered, until the vegetables are very tender. 18 to 20 minutes is a good guideline.
Meanwhile, melt butter in a large skillet over medium heat. Cook, swirling occasionally, until golden brown for about 2 to 4 minutes. Add in the bread and cook, stirring often, until toasted, for around 10 to 12 minutes. Season with salt and pepper. Then, discard the thyme sprigs. Puree the soup, in batches, in your trusty blender until it is smooth. Add cream and pulse to combine. Season with salt and pepper and serve topped with croutons, pomegranate seeds, and chives. Lovely velvety goodness.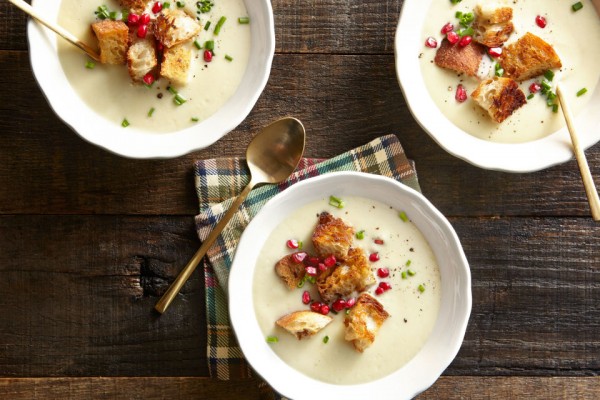 3. Greek Dip and Sticks (this makes a great school lunch also!)
2 medium cloves garlic
1/4 teaspoon salt, plus more to taste
1 medium cucumber
1 cup Greek yoghurt
1 tablespoon fresh lemon juice
1 tablespoon extra virgin olive oil
1 tablespoon finely chopped fresh dill
1/4 teaspoon ground black pepper
3 carrots
3 sticks of celery
What you'll do:
Peel garlic and chop coarsely. Sprinkle with ¼ teaspoon salt and mash into a puree with the blade of a knife held sideways. Scrape into a medium-sized bowl. Next, remove the ends from cucumber and peel. Cut in half lengthwise; scrape out and discard seeds. Coarsely grate cucumber flesh or mince finely with a knife.
Working over another bowl or sink, squeeze grated or chopped cucumber firmly to extract as much juice as possible; discard juice and add squeezed flesh to bowl with garlic. Then you can add yoghurt, lemon juice, olive oil, dill and pepper, stirring together well.
Cover and refrigerate for at least 2 hours for flavours to blend. Add more salt if needed. Serve as a dip with pita bread and fresh vegetables or as a sauce for grilled lamb, chicken, beef or vegetables. What a pretty, colourful and delicious snack for those hungry tummies.
Now the fun part! Use a good Shredder, like this one from Bosch, to perfectly chop carrots and celery, dip and enjoy! A feast for the eyes as well as the tummy.
4. Vegetable Ratatouille
What you'll need:
2 red onions
4 cloves of garlic
2 aubergines
3 courgettes
3 red or yellow peppers
6 ripe tomatoes
1/2 a bunch of fresh basil
olive oil
a few sprigs of fresh thyme
400 g tin of quality plum tomatoes
1 tablespoon balsamic vinegar
1/2 a lemon
What you'll do:
Prep your ingredients before you start – peel and cut the onions into wedges, then peel and finely slice the garlic. Trim the aubergines and courgettes, deseed the peppers and chop into 2.5cm chunks. Roughly chop the tomatoes. Pick the basil leaves and set aside, then finely slice the stalks.
Heat 2 tablespoons of oil in a large casserole pan or saucepan over a medium heat, add the chopped aubergines, courgettes and peppers (you may need to do this in batches) and fry for around 5 minutes, or until golden and softened, but not cooked through. Spoon the cooked veg into a large bowl.
To the pan, add the onion, garlic, basil stalks and thyme leaves with another drizzle of oil, if needed. Fry for 10 to 15 minutes, or until softened and golden. Return the cooked veg to the pan and stir in the fresh and tinned tomatoes, the balsamic and a good pinch of sea salt and black pepper.
Mix well, breaking up the tomatoes with the back of a spoon. Cover the pan and simmer over a low heat for 30 to 35 minutes, or until reduced, sticky and sweet.Tear the basil leaves, finely grate the lemon zest in and adjust the seasoning if needed. Serve with a hunk of bread or steamed rice.
5. Homemade Pizza (a firm favourite in our house!)
What you'll need:
For the base:
250g Strong white flour1 tsp salt
7g sachet dried yeast
1 tsp sugar
30ml Olive Oil
120ml tepid water.
For the tomato sauce
1 tbsp olive oil
1 onion, finely chopped
2 cloves garlic, crushed
1 tin chopped tomatoes
1 tbsp tomato puree
1 tsp dried oregano
Pinch of sugar
Salt and pepper
Toppings
150g Grated Mozzarella
Fresh Basil
Choose any topping of choice including; Black olives, pepperoni, mushrooms, artichokes, sweet corn, sun-dried tomatoes or peppers.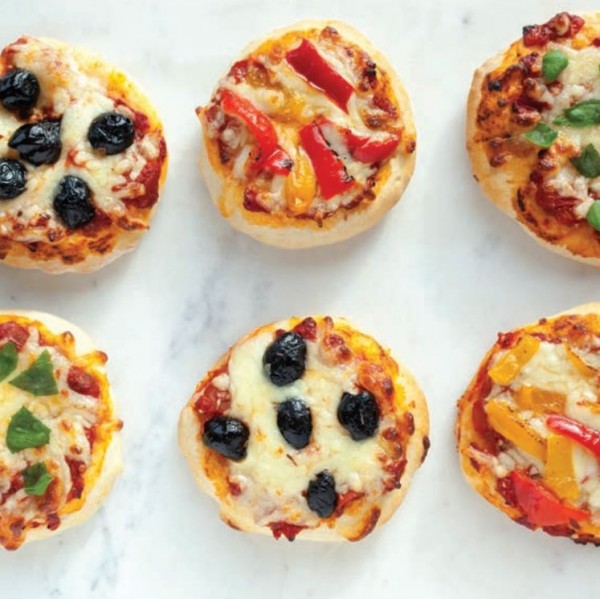 What you'll do:
Sift the flour and salt together into the bowl of a MUM mixer. Attach the dough hook and add the yeast and sugar and mix for a minute to combine. With the motor running on the slowest speed, add the olive oil with enough water to form a soft but not sticky dough.
Keep mixing for 8 minutes on the slowest speed to knead the dough. Transfer the dough to a large bowl and cover with some cling film. Next, you can leave this to rise in a warm place (a warming drawer on the lowest setting is ideal) for about 1 hour or until the dough has doubled in size.
While the dough is rising, make the tomato sauce. Heat the olive oil in a medium saucepan. Add the onion and cook for 10 minutes over a low to medium heat until soft but not browned. Add the tin of tomatoes, tomato puree, oregano sugar, salt and pepper. Simmer gently for 25-30 minutes.
Set aside until ready for use. Preheat the oven. Tip the dough out onto a lightly floured surface. Cut into 6 pieces and roll out as thinly as possible.
Place the pizza bases onto a large piece of parchment paper. Place the universal pan on shelf level 1 to heat. Spread the dough with tomato sauce. You can use your hand blender to pulse so that the tomatoes are a nice consistency. Sprinkle on mozzarella cheese, and some fresh basil and any topping of choice. Slide the pizzas onto the hot universal pan and bake for 12-15 minutes until golden brown and bubbling.
These are really inventive, creative and delicious recipes to help your little ones get the nutrition they need without the moans of 'euww, green stuff' we all dread!