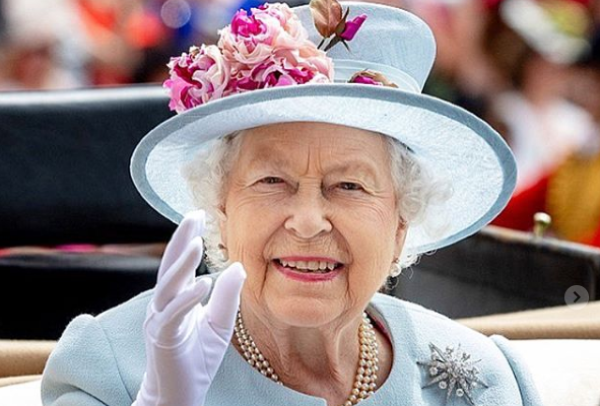 The queen signature look is quite distinctive.
Curiously she always dawns a pair of white gloves along with a bright coloured coat, big brooch and a matching hat.
However, her Majesty's wave wouldn't be quite the same without them.
The brain behind the gloves is Cornelia James, who is responsible for seven decades of gloves for the Queen.
During an interview, it was revealed exactly why the Monarch wears the fashion piece.
Genevieve James, creative director of Cornelia James, detailed to GoodHousekeeping.com:
"The Queen wears gloves because they've always been part of her style,"
"The mind's eye picture of the Queen is the white-gloved hand waving."
In addition to being a definitive part of her look, the gloves hold another benefit for all her royal duties.
"They're number one: style. Number two: practical," the creative director added.
"They're necessary because if you're the Queen, you're shaking a lot of hands, so they protect her hands as well."
The design of the Monarch's favourite accessory is quite particular as the gloves always have similar embellishment and subtle colours, such as white, black, or a soft ivory called parchment
The preferred glove is named "Regina," on their website.
Leather or synthetic materials are shunned, as pure cotton with a delicate suede-brush finish, or a light Swiss jersey are the only fabrics fit for a Queen.
Eagle-eyed individuals may also spot that the Monarch will never expose her arms.
The favourite brand with the royals wasn't always tailoring pieces for famous hands, as it comes from humble and much brighter beginnings.
In 1947 a royal couturier by the name of Norman Hartnell spotted the gloves for their eye-catching colours.
The company's founder, Cornelia James and Genevieve's mother, escaped Austria as Jewish refugees in 1939.
"She literally arrived in London with just a suitcase full of leather," her daughter recounts.
Shortly after, Vogue featured the designer nicknaming her brand as the "Colour Queen of England".
An entire suitcase of gloves for Princess Elizabeth's honeymoon had been requested, which started the trend of the famous glove habit.
In 1979, Cornelia James was made a Royal Warrant as the official glove manufacturer for the Queen's chic style.
Her daughter has since taken over the family business when Cornelia passed in 1999, at the age of 82.
Since the changing of hands, it is estimated that 60 to 70 pairs have been produced for the Monarch, according to James.
Never one to waste, the Queen frequently wears decade old gloves.
"I can tell the ones I did from the ones my mother did," James explained.
Always the trendsetter, Cornelia James have had a number of celebrity and royal clients wearing their gloves.
The well-known faces include Lady Gaga, Madonna, Taylor Swift, and Rihanna, as well as Princess Margaret and Princess Anne.