Swimming with my baby for the first time was my favourite bonding moment. As we entered the water, her little hand grabbed hold of my swimsuit and her mouth widened at the new sensation. Her eyes locked with mine and she stared intently at my face to judge my reaction. When I smiled, she visibly relaxed and started taking in the new feeling, and it was the first time I knew she trusted me completely.
The first time we went swimming was at an organised class with Water Babies. There are other classes available but I found their venues and times suited me, and I have found them to be excellent. While I could have taken her myself, I found the classes gave me confidence and some fun safe activities I could do, so my baby finished the sessions happy.
During the sessions my baby always had an enjoyable time, revelling in the new sensations and laughing and giggling at the activities. Sometimes she got very tired towards the end (a 30 minute swim is the equivalent of a major workout for us) but a quick cuddle was enough to keep her happy. Some of the other babies did cry, but it was generally only for short periods. If I had gone alone I think there would probably have been a lot more tears and worst case scenario it could have put her off swimming completely.
Right from the first class we did an underwater swim. My baby was only under for a few seconds and I was quite nervous, but the teacher encouraged us to be ready with a big smile. She was guided back up and emerged with a look of interested nonchalance, rather than the shock I was expecting, and again when she saw me smiling any concerns she had evaporated. I would never have got up the nerve to do that on my own.
If you are thinking of taking your baby swimming it is worth checking the pool temperature. Most pools are quite cool for a baby so you may need a little wetsuit. (Mine came from Splash About in the UK). You will definitely need some disposable swim nappies and a neoprene nappy over the top. Nobody wants to be the one with a leaking baby in the pool! I would also try and choose a pool that has steps into it, so you can access it easily while holding a baby.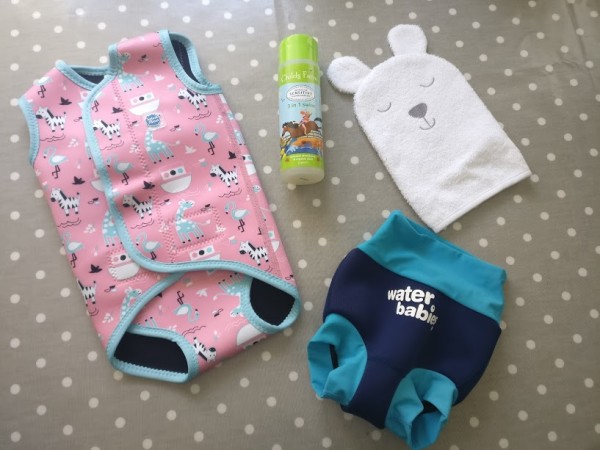 When I said I was thinking of taking my baby swimming a few people said to me "ooh babies can just swim naturally at that age". The Water Babies teacher was quick to dispel that myth. While babies do have some natural reflexes, you can't just let go of them in water and expect them to swim. So if you are taking your baby swimming never take your eyes off them and leave them unattended in the water.
The teacher also pointed out that babies hate getting water up their nose, so avoiding splashing water up at them is a helpful tip. Although you can splash water down over their face from above.
While I love the time in the pool with my baby, the changing room afterwards is a different story. The other mums seem to be able to dry their babies and let them drift off to sleep while they shower and change at leisure. I was usually standing in a dripping puddle trying to calm my screaming baby, but things got gradually better and now I can go with no tears at all.
Here are a few things I have found that have helped:
Have a towel ready to wrap your baby in as soon as you get out the pool so they don't get cold. The first time I went I stashed everything away in a locker, but that delayed things, so next time I brought the towel poolside with me.
Take a padded changing mat. Pool changing rooms are usually cold hard floors so it's nice to have something soft.
You'll need to take baby into the shower to wash off the chlorinated water. If you use baby wash gel (I use Child's Farm) make sure it is one that you can open with one hand because handling a wet slippery baby in the shower is pretty daunting.
Take clothes that you can get on yourself and your baby really quickly – no fiddly zips or buttons. Sometimes in warm weather I have even just wrapped her in a towelled dressing gown and nappy and dressed her at home.
Swimming is hard work for a baby so they will be hungry so have some food ready.
Bring a car seat into the changing room (generally there won't be room for a pram) so you have somewhere safe to put your baby down while you get dressed. If you are lucky they might even drift off to sleep there.
After a swim my baby is usually very tired so I make sure not to plan any activities straight after and allow time for a nap.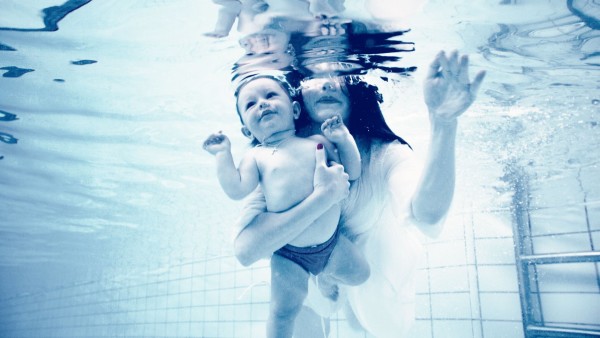 I don't know how much of these classes she will actually remember, but if it gives her any safety reflexes that might keep her safe around water in the future it is definitely worth it. Seeing her smile and gaze at my face in the pool is also so special and worth any amount of changing room hassle.
Whether you decide to join a class or take your baby to a pool on your own I would definitely recommend it as a great bonding experience. Keep lots of eye contact and stay relaxed and smiling yourself, and that greatly increases the chances your little one will enjoy it too.