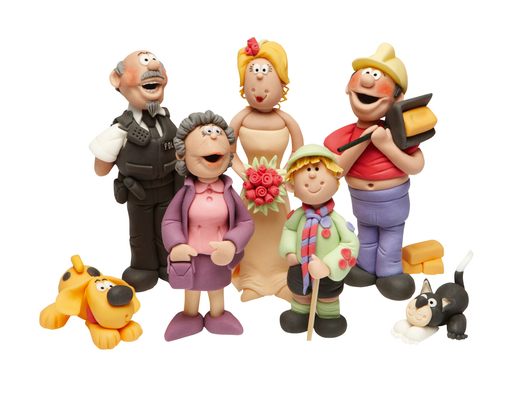 We just know how much effort our mums go to in order to create the perfect birthday parties for their little prince or princess! So, we just couldn't resist telling you about SK sugar dough made with natural food colouring. It's not just for birthday parties, it's perfect for every occasion including christenings, weddings, gifts, parties and kids just love playing with it too!
Sugar Dough is perfect for all your cake decorating projects and is now available in a range made with natural colours.
Sugar Dough is available in a range of 12 vibrant natural colours ideal for covering cakes, cookies and for making adorable modelled figures where you need the piece to hold its shape and dry quickly but remain soft enough to eat when served. What's more, Sugar Dough is non-sticky which is great for little hands. It's tasty, too, making it the ideal medium for modelling homemade treats with your children.Kids will just love making cute little characters and will love getting to eat them even more!
Squires Kitchen has also created a range of tools specifically for Sugar Dough modelling as well as books to give you ideas for novelty modelling such as Sugar Dough Magic by Maisie Parrish, Children's Character Cakes by Debbie Brown, Bob the Builder Celebration Cakes and Squires Kitchen's Guide to Making Sugar Animals by Jan Clement-May.
Squires Kitchen will be donating 10p from every pack sold to Giving Africa, registered charity no. 1136275. Visit
http://www.givingafrica.org
to see the amazing school project that is underway in Burkina Faso.
If you've got a celebration coming up, visit
www.squires-shop.com
to find everything you need for your cakes and goodies including edible colours, gorgeous sugar decorations, cutters, moulds and much more.
Shop online 24 hours a day at www.squires-shop.com or call the mail order department Monday to Friday on 0845 61 71 810.
Sugar Dough figures by Jan Clement-May