Stacey Solomon is still well and truly in the midst of her baby bubble after welcoming the birth of her daughter Rose just seven weeks ago.
Judging by Stacey's Instagram page, it's clear to see that both she and her fiancé Joe Swash are absolutely besotted with their darling daughter.
Even though Stacey herself is also a mum to her three boys — 13-year-old Zachary, 10-year-old Leighton and two-year-old Rex — like many of us mums, she still questions herself from time to time, wondering if she's doing everything right.
Taking to her Instagram Stories on Sunday evening, 31-year-old Stacey asked her followers for some breastfeeding advice, after sharing her raw and relatable struggles.
"Just thought I'd ask on here… for anyone breastfeeding/who has breastfed, did/do you ever feel like you run out of milk in the evening?" Stacey wondered.
"It probably sounds ridiculous but by this time every night my boobs are like empty balloons and Rose has a little moment where she seems like she's cross that she can't get any food out."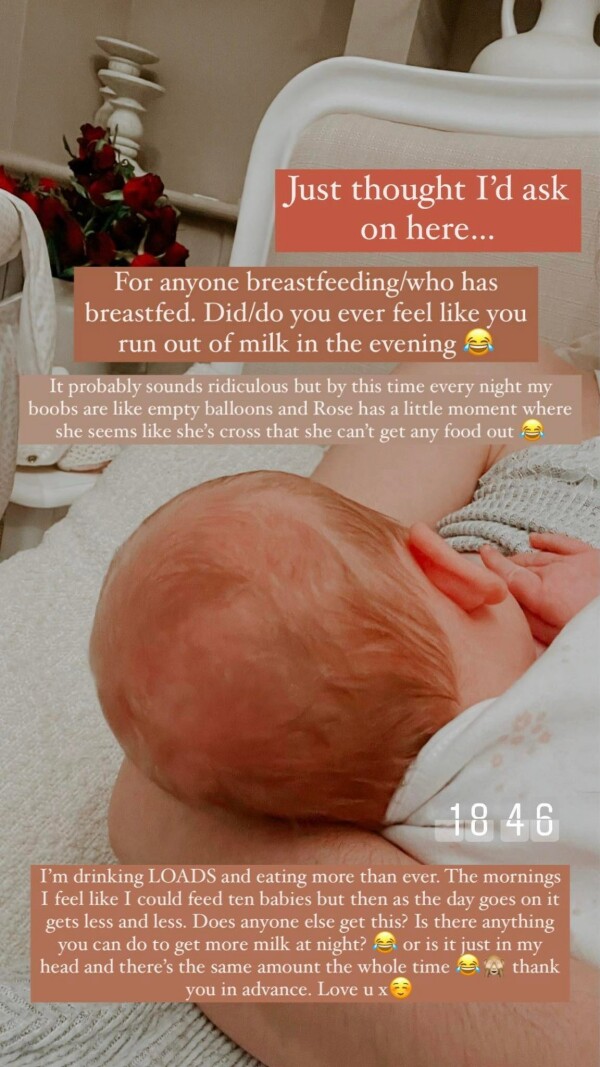 "I'm drinking LOADS and eating more than ever. The mornings I feel like I could feed ten babies but then as the day goes on it gets less and less. Does anyone else get this? Is there anything you can do to get more milk at night? Or is it just in my head and there's the same amount the whole time? Thank you in advance. Love you x," Stacey wrote.
It seems Stacey is definitely not alone in her breastfeeding woes, as plenty of mums were quick to hop into her DMs to reassure her and offer their own helpful tips.
One follower also happened to be a breastfeeding support worker and shared her professional opinion, which was that this was completely normal. The follower explained, "The evening milk is higher in fat but lower in quantity - it's totally fine for baby to feed all evening and hopefully do a bit better at night."
"Morning milk is higher in water and sugars and there's gallons of it to rehydrate after the night!" she added.
Another mum said that she uses special lactation cookies to help her milk flow, saying, "The peanut butter and chocolate cookies are amazing! After three cookies I never felt like Vinnie was looking for milk again!"
Another mum was quick to reassure Stacey, as she experienced the same thing with all four of her children. Explaining her thoughts on the issue, the follower said it's all about supply and demand, "if they feel 'empty' they are never actually empty, she's telling your body to make more milk."
For more information, check out our breastfeeding advice page here.