Designed to meet the needs of new parents who enjoy getting out and about even more as a family, the new Stokke Xplory X Signature ticks all the boxes when it comes to style, substance and sustainability.
The Stokke Xplory X Signature will appeal to a new generation of parents who can now share the care of their child more equally. The shift to working from home and the flexibility it provides, means lost time on daily commutes can now be converted to opportunities for parents to get out for a stroll in the fresh air with their little one. Never before have parents explored their locality more on foot, as they keep safe within their bubble and enjoy moments of connection with their child in the great outdoors.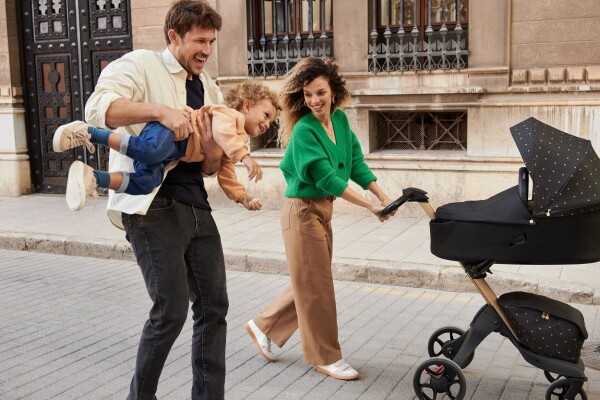 Sure to appeal to both parents, the Signature model is elevated in luxury by an all-black frame with matte gold chassis, while retaining the timeless high-end aesthetic of the original Xplory stroller. The subtle Stokke logo is peppered in gold across a striking black hood for a sophisticated and stylish finish.
New accessories include the Stokke Xplory X Signature stylish black changing bag. With the look of a sophisticated black tote, this new changing bag will transcend from day to night, and even to the office as mums juggle their love of fashion with the need for a practical solution.
The new Stokke Xplory X Signature Carry Cot offers a safe and comfortable sleeping cocoon for small babies. This perfect napping environment will help parents to keep up with the demands of their busy lifestyle, while also making time for self-care.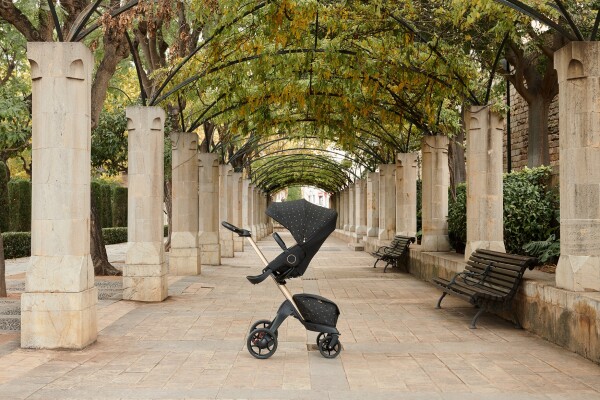 Style, Substance, and Sustainability
The Stokke Xplory X Signature's appealing luxury aesthetic has been combined with high-performance functionality, synonymous with all Stokke products. From unparalleled seat height and height adjustability to 360-degree swivel wheels, the stroller is designed to connect and bring parent and child closer together. The ergonomic, safety and comfort features make the Xplory X Signature the ultimate stroller for the whole family, giving new parents the confidence to get and explore, no matter who is pushing the stroller.
Recognising that for today's parents, protecting the world they give to their children is more important than ever, Stokke has put sustainability high on their design priorities for the Xplory X Signature stroller. The yarn used in the stroller's fabrics is made from 100% recycled fabrics. These materials are transparently produced using a certified colouring and manufacturing process that reduces chemical usage by 90%, water usage by 75% and the overall CO2 footprint by 25%. This places the Xplory X Signature at the forefront of sustainable strollers on the market today.
Irish Parenting Expert, Laura Erskine says: "Recent changes to Irish legislation now affords both parents the opportunity to take more time from work to spend with their growing infants. From July this year, each parent will be able to take up to 7-weeks parents leave up until their child's second birthday. This gives both parents the chance to enjoy developing a close bond with their child during these extremely important formative years. What is more, parents may also qualify for social welfare benefits during this time of up to €250 per week, if they have enough PRSI contributions built up."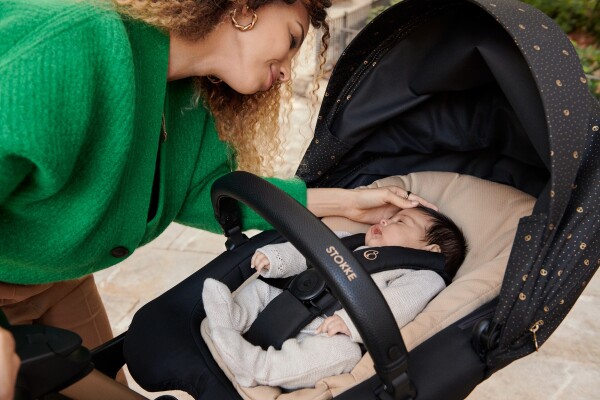 "The progressive way that both parents are now encouraged and supported in Ireland to take time to be with their young children, comes at a time that the work-life balance is also shifting. Parents can now more easily share the balance of care for their children with their desire or need to work. The new work-from-home or hybrid models now adopted by companies since the pandemic, has given more flexibility to workers and a cultural acceptance that family life is important too."
"Getting out and about with your little one is a nurturing experience for a parent and child to experience together. Sharing new adventures, making memories, and exploring the world around you, provides so much enrichment, enhancing the natural bonding process. I love the closeness that the Stokke Xplory X Signature stroller can create while out walking with your child. It's amazing how design features like having your child elevated to promote greater eye contact, can help you to experience the wonder of the world through their eyes. Children really do make the simplest things truly magical, like the sight of a rainbow or the flowering cherry blossoms in the trees."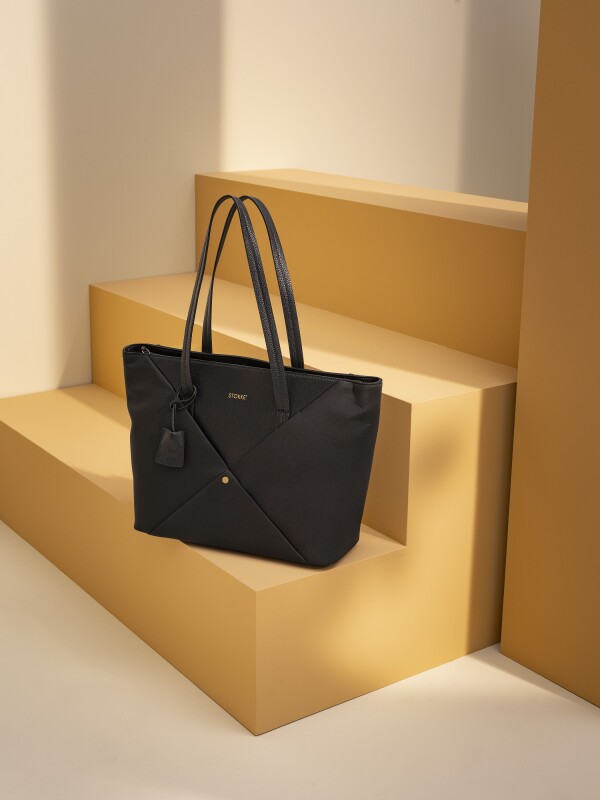 The Stokke® Xplory® stroller was first launched in 2003, gaining immediate attention and success due to its radically new shape, combined with unparalleled seat height. It continues to be the stroller of choice for celebrities, opinion leaders and fashion-conscious parents due to its unique design.
*Accessories sold separately
Stokke® Xplory® X Signature, RRP €1,199
Stokke® Xplory® X Signature Carry Cot, RRP €239
Stokke® Xplory® X Signature Changing Bag, RRP €179
The best baby buggies will always make your life easier and when it comes to parenting, that's a massive positive.