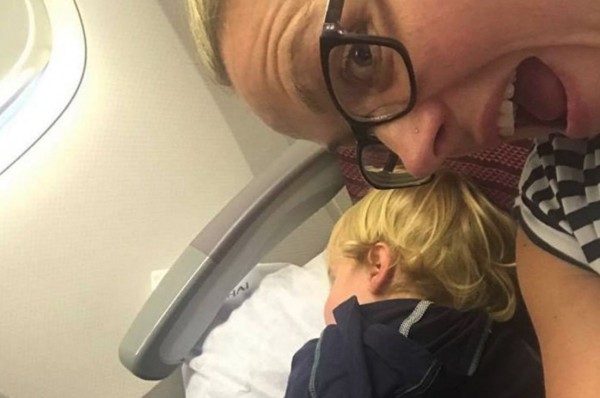 Is there anything worse than flying with little ones when they're just not feeling up to the trip? There's no such thing as 'going outside for a walk', and the dirty looks from your fellow passengers never fail to make you feel utterly awful.
Our poor babies – we can't imagine how frustrating it is for them, to be sad or sick but not really know what's going on around them! This is why we will try anything to make the process that little bit easier for them – and why parents all over the world are intrigued by a new invention.
An Australian company has created a device called the 'Fly Legs Up Flight Hammock', aimed at making the flying experience easier and more comfortable for parents and children alike.
Fly Legs Up is essentially a specially-devised piece of netting that, when hung from the tray-table of a regular airplane seat, turns into a hammock.
The product comes with a series of pillows that, when moved around, can create a sleeping solution for small children. Adults don't have to miss out, though – it can also serve as a leg or foot rest.
Indeed, the Fly Legs Up website boasts a series of health benefits related to its product, such as: helping to reduce leg and foot swelling, possibly helping to reduce the risk of developing Deep Vein Thrombosis, and helping to relieve back pain associated with sitting in one spot for a prolonged period of time.
As always, once we heard about the device – which is retailing at a very affordable €54 online – we wanted to find out what parents think of it; and early reports sound very encouraging.
Mum Sue took to Facebook to share her account with the product, posting a photo of her sleeping tot (and her smiling face), crediting it with giving her family 'a great start to her holiday'.
Our favourite report back, however, has to be the photo of mum Janette's son, who is seen smiling as he sleeps during a flight from Glasgow to Auckland! How adorable!
Flying with children can be so challenging, so it's great to see companies tapping into this and coming up with ways to help travelling families. It will be interesting to hear more feedback on Fly Legs Up.