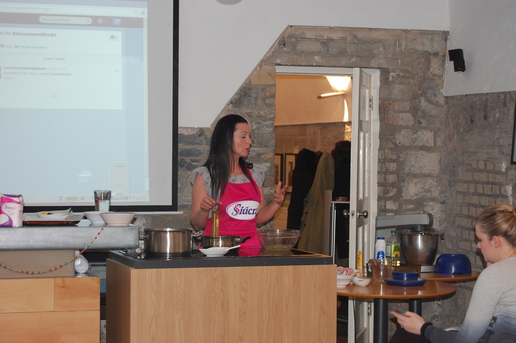 Just before Christmas, we were incredibly lucky to be invited to attend a Siucra sugar master class with celebrity pastry chef Louise Lennox, who many of you will know from popular TV shows 'The Restaurant' and 'The Afternoon Show'. We were part of a group of fabulous foodie bloggers who were treated by Siucra to a wonderful evening of baking, cake decorating and of course, the best part sampling all the delicious goodies!
For the Siucra master class, Louise showed us how to make honeycomb, peppermint marshmallows and a vanilla custard chiffon cake which is a delightfully light sponge cake made with oil rather than butter. Louise also shared lots of sugar secrets with us which we have to say have been making our time spent in the kitchen a whole lot easier ever since. One really helpful tip she shared, was always, always invest in a good sugar thermometer as attempting to guess the temperature of sugar, while making anything like marshmallows, honeycomb or caramel can be really tricky otherwise.
Louise demonstrated with expert knowledge just how easily delicious sugar can be transformed into homemade honeycomb by simply adding a teaspoon of baking soda and how just a sprinkling of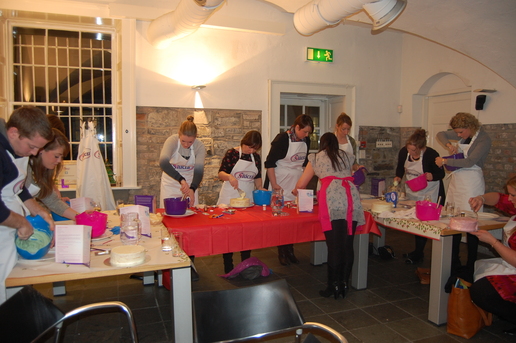 peppermint essence makes homemade marshmallows even more irresistible.
Finally, we were shown how to make the most unbelievably light chiffon cake with a creamy vanilla custard filling. Louise then expertly showed us how to simply decorate the cake before getting us to decorate our very own chiffon cakes using Siucra instant royal icing sugar. She even showed us a handy way to make icing bags using grease proof paper. While our decorating skills weren't quite up to Louise's standards, we thoroughly enjoyed ourselves and the best part of the night was getting to tuck into a delicious slice of Louise's heavenly
vanilla custard chiffon cake
.