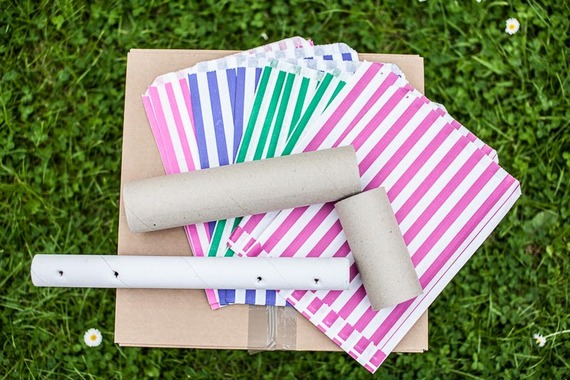 There's nothing more fun when you are little than to play pretend shop, this little ice cream shop can be made in less than 30 minutes and endless hours of fun for the little ones with there friends and neighbours.
What you need:
Cardboard box x2
Sticky Tape
Toilet/Kitchen Roll Holders
Pretty paper/Old magazines/Old Wallpaper scraps
Pritt Stick
Method:
Get an old small box and tape it up as if there was something inside it.
Stick two kitchen roll holders together and stick onto the top of the box on one side.
Repeat on the other side.
Cut another cardboard box in half and cut the top with a scissors into an ice cream parlour shape (semi-circles) amd stick onto of the kitchen roll holders in place.
Begin gluing your paper/magazines etc.. to the cardboard. I used stripy paper sweet bags.
When you have completely covered it leave to dry.