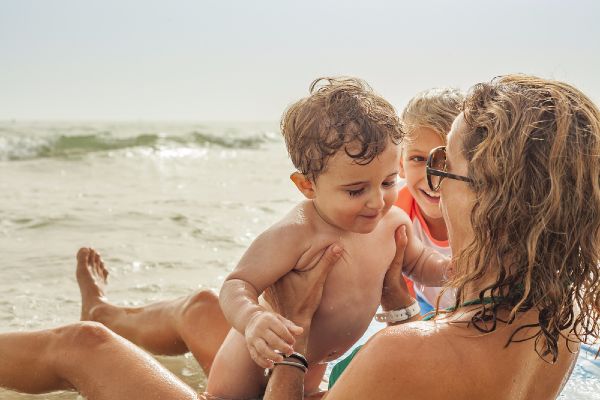 Summer time is for swimming, relaxing and enjoying life as much as possible - but we also need to ensure safety at all times.
This is especially relevant if you are jetting off on a sun holiday (lucky you!)
Nowadays, so many families head off to warmer climates, such as the beautiful Greece or vibrant Spain, to enjoy some quality time in the sun.
With that in mind, it is important to know how to handle the heat, for both yourself and your little ones.
Check out this handy guide to dealing with warm weather, and have a great trip:
Sun protection for kiddos (and yourself)
Exposure to the sun can not only cause nasty sunburn, but can increase the chances of melanoma in the future so, naturally, sun protection is a must. The best way to protect against the sun is to avoid exposure to strong UVA and UVB rays, particularly in the middle of the day, by staying in the shade.
Ensure your child has SPF on at all times. When choosing a sun cream for children it is suggested to go between SPF 30 and 50, which should be applied in the morning, about 30 minutes before sun exposure. Then, for extra safety, re-apply throughout the day apply every 2 hours or so.
Before applying sun cream it is a good idea to test for reactions by applying a small amount to the inside of your child's wrist. If there is no reaction it is safe to use. But if there is a reaction (a rash, redness etc…) it might be best to go to a pharmacy and ask them for suggestions as they will know the best option for young skin.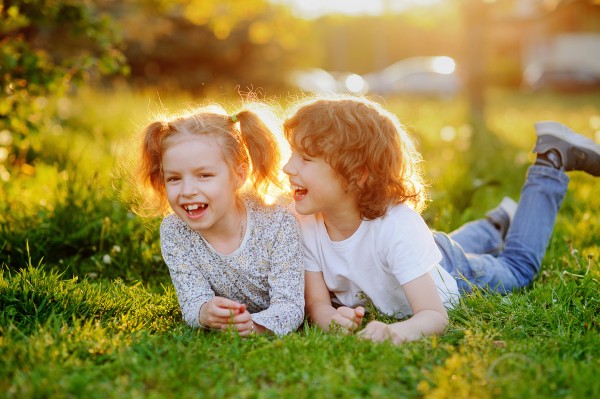 Best foods for the heat
The heat can hit us like a tonne of bricks, especially if we're not used to it (and we're not!) so it is a good idea to keep yourself healthy and hydrated.
The most important thing to do is increase your water intake. In the heat your body sweats a lot more and the water, sugar and salt lost needs to be replaced. Make sure to keep track of how much your children are drinking and keep a bottle of water handy. Ice pops can also be a good way to get your children hydrated if they don't want to drink anymore water.
Fruit is one of the main food groups to take advantage of when in warmer climates, as unlike Ireland, a lot of the fresh fruit is grown in these climates.
In terms of water content cucumber, lettuce and watermelon are a good way of ensuring you keep your water levels high. Lastly, Greek yoghurt is also very popular, as its high water and calcium and water content it can be a very good breakfast or snack to have when holidaying in warmer climates.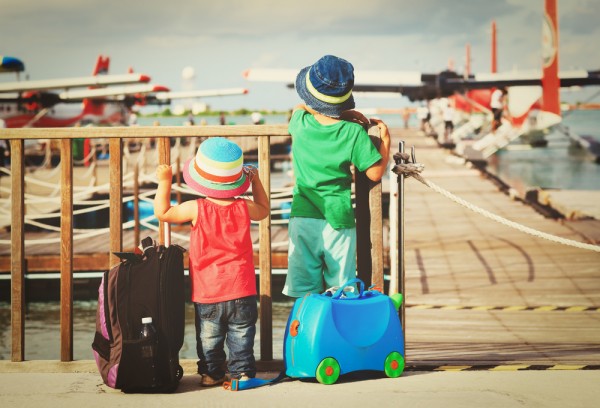 How to recognise dehydration
One of the most important things when in a hot climate is to ensure you do not get dehydrated. It can be easy to tell if you feel dehydrated but more difficult to determine whether one of your kids are.
A few symptoms you should watch for is dizziness or drowsiness, feeling nauseous, a dry mouth and cool dry skin. These are early signs, if you notice them encourage your child to drink water and go inside or into the shade. However if symptoms get worse you should go to a pharmacy or doctor.
They may suggest giving your child an oral rehydration solution (ORS), these are available in most pharmacies or grocery stores and help deal with dehydration.
But the best thing to do is avoid dehydration altogether by drinking a lot of water and eating foods high in water content.
Tips and tricks
Hack One: Another idea for where you are staying is to shut the curtains or shutters when you leave for the day. This will keep the rooms cooler as you are not letting the heat in, and when you return you will find the rooms will be considerably cooler.
Hack Two: You will notice that many towns in countries like Greece become a bit quieter between the hours of 1pm and 4pm. This is because it is tradition to take a nap in the middle of the day (a tradition we can get on board with). This is when the sun is at its strongest so it is generally a good idea to stay out of the sun and the way the locals do this is by taking a nap.
HACK Three: Typically, locals in warm climates will go for a swim in the sea in the evening - at around 5 or 6 o'clock a swim can be very refreshing. While during the day swimming can immediately cool you down, generally the sun will be so strong you will soon be very warm again. If you swim in the evening as the sun is beginning to set it can cool you down for the evening and make eating and sleeping a lot easier.