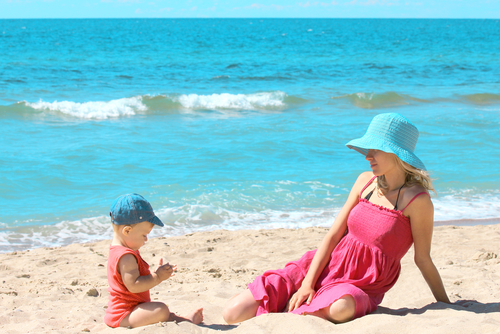 Now that we are coming into the summer and with (hopefully) sunny days ahead, it is important we are aware of how to protect children under the age of 12 months from the damaging effects of the sun's rays.
Getting sunburnt in childhood can increase your little one's risk of developing melanoma in adulthood so it is of paramount importance we protect our little ones all the time.
And remember, even on cloudy days, it is important to protect your little one as UV rays can pass through cloud.
Under the age of six months
1. Babies under the age of six months should be kept out of the sun completely. Their skin contains very little melanin, which can provide some protection to older children and adults and they are also too sensitive to apply suncream.
2. When out, use a mesh to shield them from direct sunlight and, if you can, put a UV filter blind on your car window.
3. Avoid heading out between 11am and 3pm, when the sun is at its peak.
4. Always ensure your little one is covered up with light, long-sleeved clothing and has a hat on.
Six months and older:
1. Once your baby is seven months old, it is safe to apply an SPF to their skin. Go for at least a Factor 30 and reapply regularly ensuring all areas of skin not covered by clothing has cream on.
2. Never apply a spray directly to your baby's face as it might go into their eyes. Instead, spray it onto your hand and rub it in that way. If possible, go for a cream with a slight tint to ensure you don't miss any spots.
3. Apply cream at least 30 minutes before leaving the house and reapply every two hours and again after swimming.
4. Make sure your little one has a wide brimmed hat on their head and that they are kept out of direct sunlight between the hours of 11am and 3pm.
5. If you can, pop a pair of wraparound sunglasses on their eyes to keep them protected.