Our skin faces numerous challenges daily, from UV rays and blue light to pollution. These stressors can leave our complexion feeling imbalanced, making our skincare feel like a minefield to manage. That's why Seoulista Beauty have developed their innovative, first-to-market skincare system, perfect for your daily skincare routine.
Introducing the Seoulista Super Serums, a range of concentrated formulations designed to target specific skincare concerns such as hydration, brightening, and calming. Created by dermatologists, these next-generation serums combine potent botanical extracts with high-performance ingredients that are lightweight and easily absorbed. Each serum is conveniently housed in a unique airless pump, delivering the perfect amount for your face and neck in a single application.

But that's not all – pair the Seoulista Super Serums (RRP €24/£22) with the Seoulista Cryo Cool (RRP €25/£25) for an unparalleled skincare experience. This innovative skincare device harnesses the soothing effects of cryo-technology, cooling, de-puffing, and lifting your complexion to reveal a healthy, radiant glow. The Seoulista Cryo Cool features an aluminium cooling plate that remains refreshingly cool even when stored at room temperature, allowing for convenient use anytime, anywhere. When applied to the skin, the cold therapy of the Seoulista Cryo Cool constricts blood vessels, reducing puffiness and inflammation while improving circulation. This results in a brighter, firmer complexion without any redness or irritation. The Seoulista Super Serums and Seoulista Cryo Cool work together to enhance serum absorption. The cold therapy stimulates the skin, allowing the potent formulations to penetrate more effectively for long-lasting results.
Seoulista Hydration Super Serum (RRP €24/£22)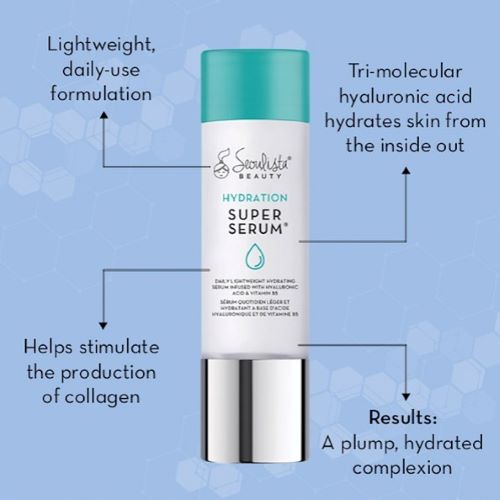 Infused with multi-dimensional hyaluronic acids, this serum delivers instant and long-lasting hydration to the skin. The tri-molecular hyaluronic acid reaches deep into the dermis, dramatically increasing hydration and moisturising the skin from within. In addition, it contains Vitamin B5 to stimulate the skin's natural repair process and restore its hydration balance. In addition, Centella Asiatica provides soothing benefits and helps with skin conditions caused by environmental factors, such as eczema and psoriasis. While allantoin effectively calms and soothes sensitive and stressed skin.
Seoulista Brightening Super Serum (RRP €24/£22)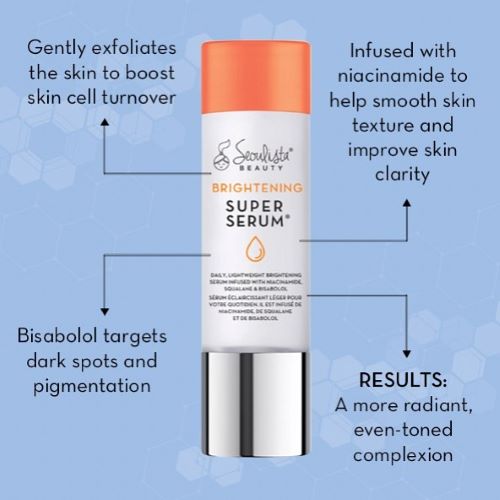 Illuminate your complexion with this powerful serum that combines brightening agents and deeply hydrating ingredients, leaving the skin feeling comfortable – never tight nor sticky. Niacinamide improves skin texture and clarity, while Bisabolol lightens dark spots and treats pigmentation, resulting in a more even-toned complexion. Squalane offers a wide range of benefits, including hydration, oil balance, and protection of the skin barrier.
Seoulista Calming Super Serum (RRP €24/£22)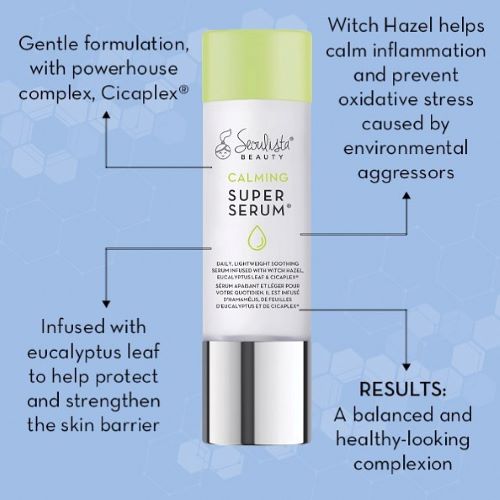 Designed for sensitive skin, this gentle serum features a blend of high-tech skin soothers and calming botanicals. Its success lies in the powerhouse Cicaplex™ complex, providing anti-inflammatory and soothing relief to red, irritated, and stressed skin. Witch hazel water prevents oxidative stress and eliminates excess oil, promoting a balanced complexion. Eucalyptus leaf acts as a natural antibacterial agent, strengthening the skin barrier while providing healing, moisturizing, and calming effects. Centella Asiatica boosts collagen synthesis, resulting in a soothed, regenerated, and smooth complexion.
How to use the Seoulista Super Serums with the Seoulista Cryo Cool: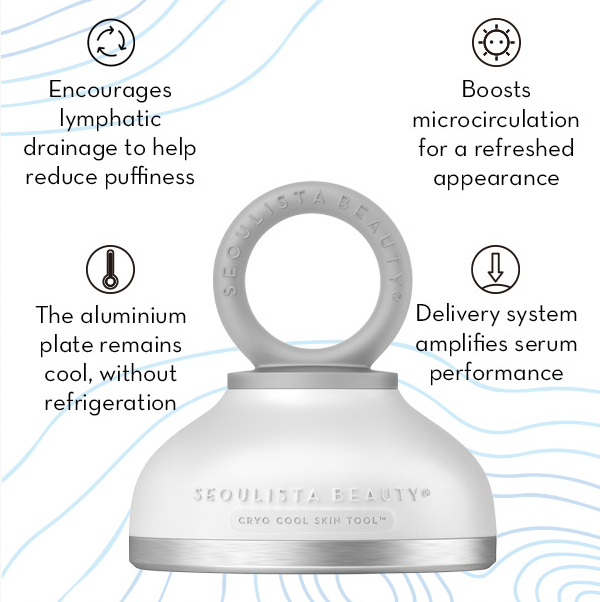 Cleanse your face thoroughly. Press the button on top of the serum to dispense a pea-size amount and blend the product onto the face and neck area. Remove the handle from the top of the tool and insert the serum bottle into the tool, turning clockwise until fully secure. Press the button on top of the serum to dispense and massage the face with the tool until the serum is fully absorbed. Use both morning and evening.
Experience the transformative power of Seoulista Beauty and unlock the secret to a radiant, balanced complexion. Discover the Daily Skincare System today and elevate your skincare journey to new levels.
Seoulista Beauty is available from www.seoulistabeauty.com, Boots, Tesco, Dunnes Stores, Avoca, Millies, The Skin Nerd and leading pharmacies nationwide.