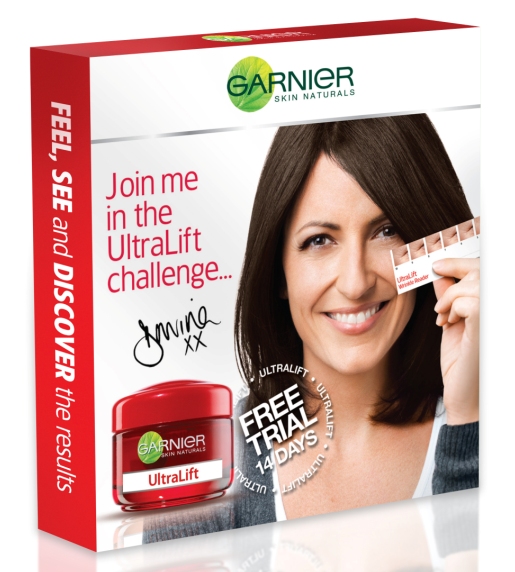 Women across Ireland are taking the Garnier Ultralift Challenge 2012 and putting Ultralift Day Cream to the test. This challenge allows women to see the results of the products for themselves. To take part all you have to do is visit
www.ultraliftchallenge.ie
for a free 14 day sample kit which includes a generous 21ml of UltraLift Day Cream and the Garnier 'Wrinkle Reader'. This challenge aims to defy scepticism about anti-ageing skincare and prove that this product really does work.
Women signing up to receive their free UltraLift Kit and 'Wrinkle Reader' will be given a three step user-friendly set of instructions so they can keep track of their results.
In front of the mirror, place the Garnier UltraLift Wrinkle Reader under your crow's feet. Match them to the closest image on the ruler and circle it.
Use one sachet of UltraLift every day on your face and crow's feet, in place on your usual anti-wrinkle cream.
After the last sachet, repeat Step 1 to compare your results.
Once the 14 days are completed, women are invited back to
www.ultraliftchallenge.ie
and report their results and feedback to Garnier.
According to research, 71% of consumers don't believe in ant-ageing claims, so Garnier set itself a challenge – to prove that anti-ageing skincare really can make a difference. The Garnier Ultralift Challenge 2011 was the largest ever consumer study into the efficacy of an anti-wrinkle cream. More than 18,000 women submitted their results and 80% of them saw a measurable improvement in the appearance of wrinkles. Nearly half (47%) of women said their wrinkles improved by two grades or more on the Wrinkle Reader.
So why not try the Ultralift Challenge for yourself? It's free and you could see a significant improvement in the appearance of your wrinkles. Visit
www.ultraliftchallenge.ie
.