Tesco Ireland is proud to announce that Benji the teddy bear will be available to purchase in Tesco stores nationwide and online for just €5 from Tuesday 1st December in aid of the Children's Health Foundation Temple Street.
Earlier this year, Tesco ran a colouring competition for the children visiting Temple Street to enter for a chance to name the Christmas 2020 teddy bear. This year, Michael Connors, aged seven, from Wexford was the winner. Michael visits the children's hospital once a month, and he chose to name the bear Benji after a puppy he had when he was younger.
Proceeds from every Benji sold will help Tesco and the Children's Health Foundation Temple Street get one step closer to their €1.2million target. Once reached, that money will go towards the purchase of a new much-needed CT scanner for the children's hospital.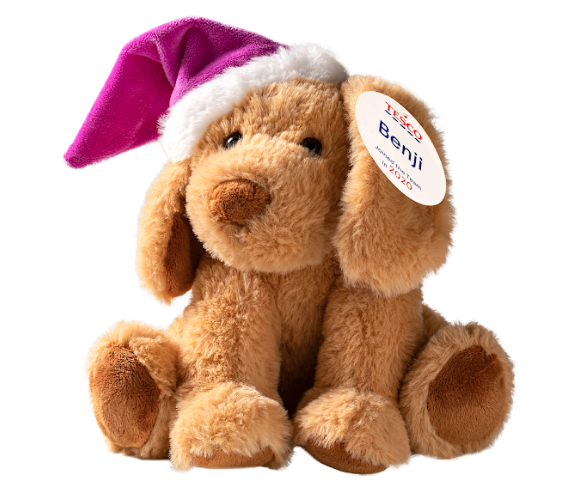 Rosemary Garth, Communications Director, Tesco Ireland said: "The team at CHI at Temple Street do fantastic work for children 365 days a year. We know how much that CT scanner will help them with their work and we're asking customers to help us reach our fundraising goal by purchasing Benji in store [or online].
We'd like to thank colleagues and customers for their determined support in raising funds for Children's Health Foundation Temple Street. We also want to send a huge congratulations to Michael for winning the competition and naming Benji, what a great name?!
As we come to the end of what has been an unexpected year of ups and downs, we hope that Benji brings some light and smiles to people across the country."
Denise Fitzgerald, Chief Executive of Temple Street Foundation, which is part of the Children's Health Foundation family said: "Every Christmas, our wonderful friends in Tesco Ireland go above and beyond for sick children in CHI at Temple Street, and we are thrilled and so grateful for the fantastic Benji fundraiser this festive season. Tesco has made a hugely positive impact on the lives of sick children in CHI at Temple Street over the past six years of our wonderful partnership by raising vital funds to purchase a wide range of essential and life-saving equipment in the hospital. Temple Street is a hospital that never sleeps and this Christmas we need your support more than ever – we encourage everyone to get involved, pick up a Benji in their local Tesco store and make a real difference for sick children and their families."
At the beginning of the year, Tesco announced that it had raised €5million in five years for CHI at Temple Street. Donations from the five-year partnership allowed the children's hospital to purchase 270 pieces of vital equipment to support doctors and nurses in helping children from all across Ireland. Since then, Tesco has committed to raising funds to purchase the new CT scanner in 2021.
Each year CHI at Temple Street treats over 145,000 children from across the country and operates the busiest A&E department in Europe. For thousands of children, CHI at Temple Street is the only hospital in Ireland in which they can be treated. Through the charity partner programme, Tesco colleagues and customers can help little people from all over Ireland get better and be real-life heroes to children attending the hospital.