Tesco Ireland is proudly 'marking the millionth' today, as it announces that the Stronger Starts programme has provided one million free, healthy and nutritious meals to primary school children and families at risk of food insecurity, since the programme began in late 2021.
Stronger Starts is an innovative community support programme from Tesco that helps to build thriving communities nationwide, with children in 117 DEIS schools across Ireland receiving a pack containing fresh apples, onions, potatoes, and carrots every week. Within the one million meals, over 4.5 million pieces of fruit and vegetables have been provided to date! It's hard to envision the enormity of marking a millionth, so to help, here's what all that fruit and veg would look like:
Watching a nail-biting cup final in one of Ireland's biggest sports grounds? One million meals is enough to fill each seat in the Aviva Stadium 19 times over
Visiting one of Ireland's most famous landmarks? One million meals is 25 times the amount of columns that make up the Giant's Causeway
An estimated 425,000 people passed through Dublin Airport over the June bank holiday weekend. 4.5 million would be enough to give every single passenger over 10 pieces of fruit or veg each
Built over 4,500 years ago using approx. 2,300,000 blocks, the Great Pyramid in Egypt is still one of the world's most impressive structures. 4.5 million pieces of fruit and veg is almost twice the number of blocks used to build The Great Pyramid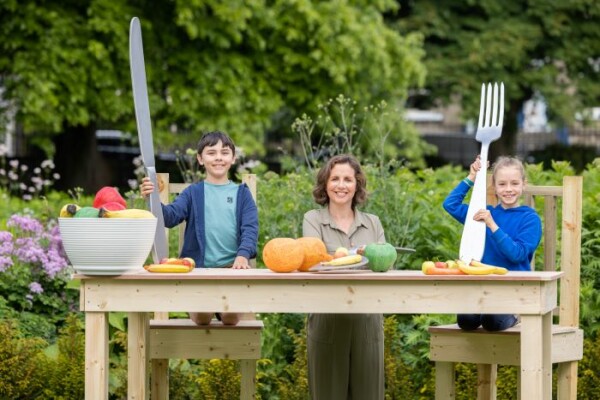 Stronger Starts began as a pilot programme in partnership with The Good Grub Initiative in November 2021, providing 1,000 food parcels per week to children across 40 DEIS schools. The number of weekly packs has since tripled to 3,000 across 117 DEIS schools, with Tesco setting the ambitious goal of delivering one million meals by May 2023. The programme is supported by long-standing local suppliers Country Crest, Keelings and Dole, and complements existing government programmes that also provide food supports to schoolchildren and their families nationwide.
Speaking about the initiative, Rosemary Garth, Tesco Ireland Communications Director, said:
"We are honoured to have delivered one million meals to children and families in need across Ireland, with the help of our fantastic suppliers, partners and colleagues. We're grateful to be 'marking the millionth' today after accelerating our ambition last year and increasing the number of families receiving a fresh food pack. Children need to be fed to enable concentration at school, and from speaking to school principals and home school liaison officers, we know the difference Stronger Starts is making in support of that, and for children's health, more broadly. With Stronger Starts, our aim is to help make a positive change within our communities, and we're looking forward to continuing to do that long past this fantastic one million mark."
Aisling Cox, Principal of Virgin Mary Boys National School in Dublin added: "I have seen first-hand the impact that the Stronger Starts programme has made on the lives of students. Combined with the healthy lunches provided in school, having fresh ingredients delivered each week to take home means they have access to the nutrition they need to reach their full potential and thrive both in and out of school. We have seen such a huge difference in our pupils' attitudes towards healthy eating, especially since the programme started in 2021. It's heart-warming to see them showing up ready to learn."
Tesco has been appointed one of Ireland's Sustainable Development Goal (SDG) champions for 2023-2024 by Minister Eamon Ryan. As a grocery retailer, Tesco Ireland is particularly committed to 'SDG2 Tackling Hunger', aiming to drive awareness through its Stronger Starts programme. The programme also sits alongside Tesco's other community supports, including the Tesco Community Fund, its long-term charity partnership with Children's Health Foundation and work with FoodCloud and Olio to redistribute surplus food to those in need - all of which are helping to build thriving communities across Ireland.
For more information on Tesco Ireland's commitment to communities nationwide, visit TescoIreland.ie.