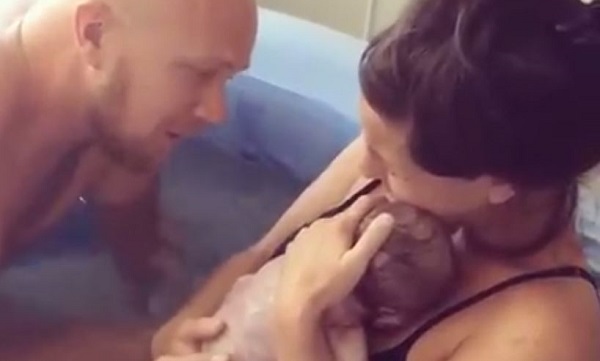 When we think about birth, many of us imagine hours of pain, plenty of screaming and a whole lot of blood – but let this video remind you that it's not always like that; that, sometimes, it can be 'nice'.
This is how one follower of midwife Lisa-Marie Sanchez Oxenham has described a home water birth video which has been amazing mums everywhere this week.
In the video, mum Audra is seen sitting in her birthing pool, in labour, and preparing herself for the next big wave of contractions.
She braces herself, remaining strong and calm in the face of the pain, then lets out a gasp as she catches her baby in her own two hands.
There are two main reasons why this video has attracted 12 million views in just a matter of days: firstly, people can't believe how peaceful and calm this woman is in the throes of labour; and secondly, fellow mums are startled by how fast the newborn emerged.
"That baby flew out!" commented one follower. Another, meanwhile, chimed in: "Aw, looks like a nice birth. The ones I have watched have been awful – dreading mine."
As amazing as this video is, we must remember that every mother – and every birth – is different.
SHARE to amaze a fellow mum or mum-to-be this evening.