No one can prepare you for the lack of sleep when you first become a parent. The exhaustion is relentless, and it becomes a competition, with your partner, as to who is more tired. I know I established terrible habits with my first daughter – yes I rocked and cuddled her to sleep which ended up being really lovely for me at the time, but when no.2 came along, first daughter just wouldn't go to sleep without the rocking bedtime routine. With two children, it's impossible to maintain so I changed my routine dramatically for no.2. To this day, first daughter still has issues going to sleep – she needs chats and to be settled whereas my second daughter hops into bed, turns her head and falls asleep. Amazing!
What I wish I had known at the beginning that although I loved giving snuggles, that it wasn't the best for my daughter or my family. She woke up constantly during the night and incredibly early in the morning (5.30am early) and I just couldn't get her to settle without the snuggle routine.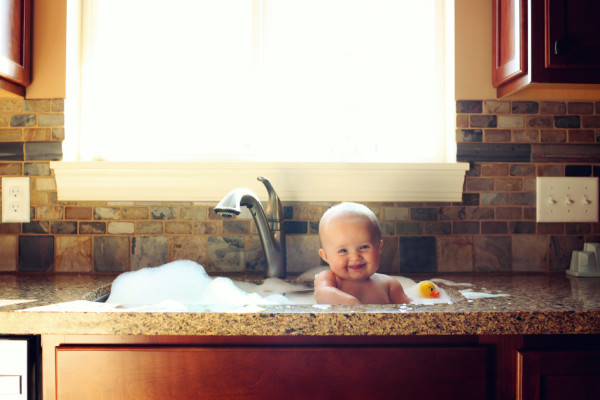 The moment I brought our second daughter home, I overhauled our bedtime routine and I have to say, it worked.
My new bedtime routine consisted of:
Giving my baby a bath
Changing into night clothes and a fresh nappy
Dimming the lights in the room to create a calm atmosphere
Giving a goodnight kiss and cuddle (a short one!)
Putting them to bed
Singing a lullaby or having a wind-up musical mobile you can turn on when you've put your baby to bed
I believe it is appropriate to include something in your baby's bath that will help them sleep – we use remedies such as lavender for ourselves, so why not for our baby provided they are safe, free from soaps, sulphates and dyes?
Aveeno Baby has a new Calming Comfort range which has been specially formulated to help parents create a calm and relaxing bedtime routine to send their little ones off into the land of nod and deliver a better night's sleep for the whole family. It's gentle enough for everyday use, but it has been carefully created for delicate baby skin, containing soothing natural oat extract, alongside soft aromas of vanilla and the relaxing scent of lavender to help calm babies at bedtime.
Aveeno Baby understands the power of a good night's sleep at all ages, and we all know a tired baby is not a happy baby, which can also lead to lost sleep (and stress) for mum and dad.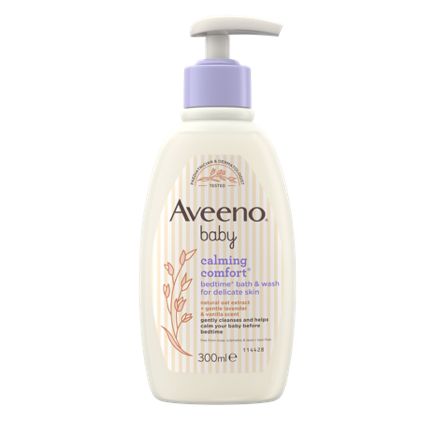 The Calming Comfort range is made up of a Bath & Wash and Moisturising Lotion, has been specifically designed to create a step-by-step routine from bath to bed, incorporating calming scents, to help relax baby and deliver a peaceful night for the whole family.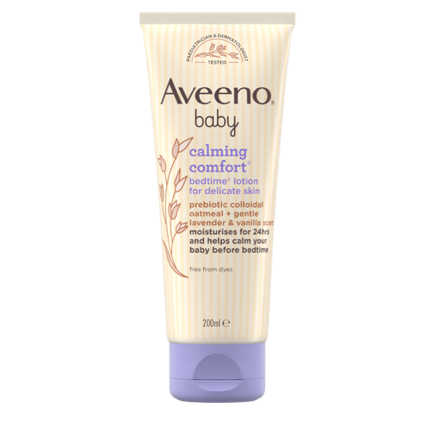 But it's not just the products that make a difference – as I learned the hard way, the power of routine is key to establishing healthy sleep habits. Research has shown that following familiar steps each evening can help to regulate your baby's body clock and establish a sleeping pattern.
The Aveeno Baby 3-step routine consists of a warm bath, followed by a soothing massage and finally, quiet time, and is clinically proven to help baby fall asleep faster and stay asleep for longer.
Step 1: Warm Bath
Begin baby's pre-bed routine with a warm relaxing bath scented using Aveeno Baby Calming Comfort Bath & Wash.
Step 2: Gentle Massage
Follow the bath with a soothing baby massage using Aveeno Baby Calming Comfort Lotion, the perfect way to make little ones feel secure, loved and ready for sleep.
Step 3: Quiet Time
Finally, send your little one off into the land of nod with some quiet time. Keep the atmosphere calm and cosy and help baby wind down further by reading, singing, or playing a lullaby.
Paula Moriarty, Children's Nurse and Professional Skincare Consultant for Aveeno Baby says "As we know bedtime is a special bonding time for parents and their little ones. The inviting combination of both lavender and vanilla in this new Calming Comfort bedtime range fill the room with calming and soothing baby friendly scents, to relax baby ready for bed. These products will help parents keep a familiarity to baby's bedtime routine to keep baby comfortable when they need it most".
A lot of love goes into the formulation of Aveeno Baby, so that every baby can experience happy skin. The products are free from soaps, sulphates and dyes and the products leave delicate skin feeling clean, soft, moisturised and nourished.
As with all the Aveeno ranges, the latest Calming Comforts products are also made from one of life's most nutritional grains - the Oat. This core super-ingredient has stood the test of time and is known to soothe skin prone to irritation by helping protect and restore the skin's natural barrier.
Aveeno Baby Calming Comfort range is available in pharmacies nationwide retailing at €6.99 RRP.