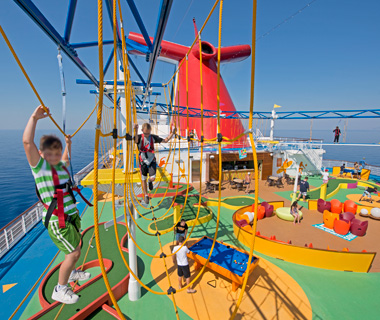 A cruise can be the makings of a wonderfully memorable family holiday.
This type of holiday can also be great value for money, with lodging, food, activities and transportation to faraway places, all for one set price.
The kids are kept happy with a never-ending line-up of activities, and parents have the option to relax, wine and dine while taking in the stunning sea views.

Here are the top five picks of the most exciting family cruise lines.
1. Carnival Cruise Lines
Carnival Cruise Lines offers trips from the Port of Miami to destinations such as Tahiti, Bermuda, Greece, and Mexico. Onboard the ships, travellers enjoy multiple restaurants, complimentary 24-hour service, and a variety of nightly entertainment. Possible journeys include a three-day trip to the Bahamas and a four-day Western Caribbean cruise to Cozumel, Mexico and Key West, Florida aboard the Carnival Imagination. Besides in-port activities, the 855-foot Imagination also features the Carnival WaterWorks park, a 9-hole miniature golf course, and an adults-only retreat with a hot tub and lounge chairs.
2. Uniworld River Cruises
This LA-based provider of luxury river cruises offers trips on no fewer than 13 rivers in more than 20 countries, such as Germany, Egypt, China, and Vietnam. The company's 40 itineraries range in length from a week to a month and and include custom-blended shore excursions. Trips include the eight-day castles along the Rhine cruise; tulips and windmills, a 10-day trip from Amsterdam to Antwerp; and classic Christmas markets, which explores the best Christmas markets throughout Germany.
3. Norwegian Cruise Line
This cruise line has invented - and perfected - the best concept for families: 'Free-style' cruising. That means you can do what you what, when you want, including eating dinner. So if your little one is having a 'moment,' there's no need to explain why you'll be late for your dinner seating. In addition to a youth program that features Cirque du Soleil-style activities, arts and crafts and video games, the teen program offers 20 team sports and themed nighttime events. Four ships, the Norwegian Jewel, Epic, Gem and Breakaway, also incorporate characters from the Nickelodeon network.
4. Disney Cruise Line
The 1,760-passenger Disney Magic and Disney Wonder are beautiful ships, even without Disney touches like character appearances and first-run movies. Show productions are tops on the high seas, as is the kids' programming, which includes a chance to make "Flubber" and play detective. Cabins are larger than the norm, and a unique dining system has you eating in a different venue each night. Adults even get their own entertainment area when the kids are occupied.
5. Royal Caribbean
Not to be outdone by Disney, Royal Carribean has embraced the Hollywood-style cruise business too. The line has contracted with DreamWorks, creator of the films Madagascar, Shrek and Kung Fu Panda, on six of its ships. Parades, shows, 3-D movies and meals with characters are among the allures. Even without these add-ons, Royal Caribbean has a fantastic program for children. The kid's club is spacious and divided into multiple zones for various age groups. Rock-climbing walls and surf simulators make the ship attractive to teenagers. Some Royal Caribbean ships offer family suites that can sleep six.
Image via Pinterest.