Kaliedy, the new Irish online store specialising in baby essentials, nursery items and toys, which launched in 2020, is welcoming stylish German brand hauck to its online offering this week and will be the exclusive Irish stockist of the brand's stylish collection.
German design is known for its excellent quality, practicality, comfort and taste – so it's no surprise that the new hauck collection delivers on every one of those elements. From the must-have trendy wooden high chair to the utterly convenient travel cots, hauck ensures that the contemporary design and tasteful interiors in modern Irish family homes isn't compromised when it comes to investing in your baby essentials.
Highchairs
With sustainability and longevity in mind, families who are looking to make small changes towards a more eco-friendly future will love the concept behind the hauck highchairs.
The ALPHA+ highchair (RRP €99.99) is made from durable and sustainable European beech wood, contributing to a greener lifestyle, taking into consideration the next generations too.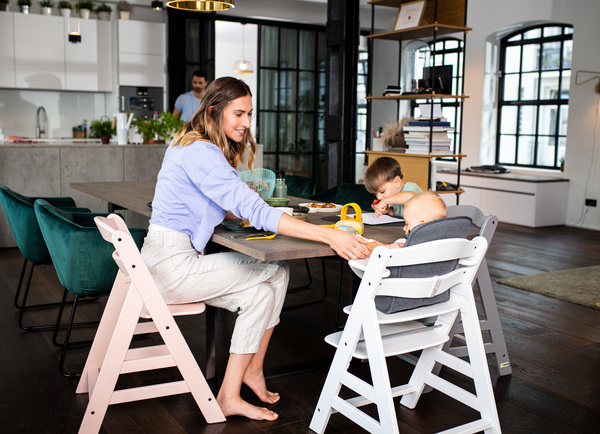 The ALPHA+ can be used from 6 months and grows along with your child thanks to the adjustable seat plate and foot plate, while it even offers a practical seating accommodation for adults up to 90 kg too, thanks to the chair being tip resistant. With the ALPHA+ protection bar, the safety strap and the 5-point harness - which are all included - your little one will be sure to have the best - and safest - seat in the house. Combined with the addition of the snuggly Alpha Bouncer Premium new-born set, the highchair can be used directly from birth and allows baby to be at eye level with their family during those early months.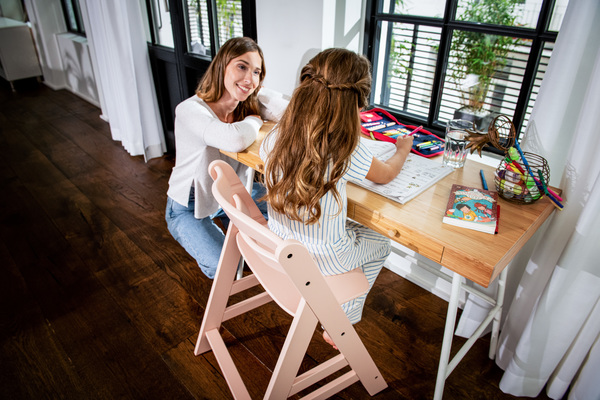 Available in a range of on-trend colours, ranging from the neutral grey or white to the stylish rose pink, black or charcoal, to name a few, the new ALPHA+ highchair collection is sure to be the next must-have item on weaning parents wish lists.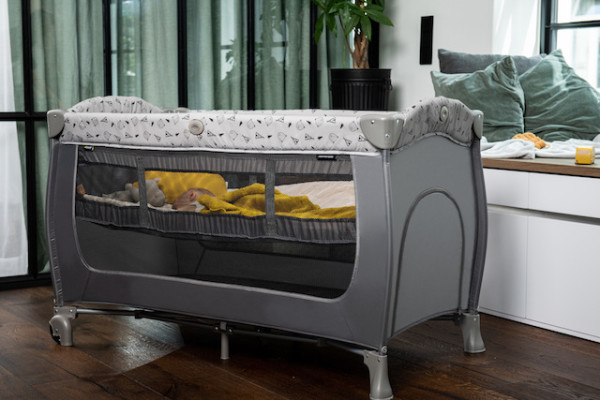 Travel Cots
The hauck collection at Kaliedy will also see the arrival of a range of a range of travel cots, something the brand is already credited with across the globe. With practicality for parents in mind, but comfort remaining key for baby's good night sleep, hauck has managed to create the perfect lightweight and easily transported range of travel cots, which are easily assembled and disassembled, while allowing for maximum flexibility from birth and added accessories such as sleeper mattresses and changing tables.
The hauck Play N Relax travel cot (RRP €119.99) and the Sleep N Play (RRP €99.99) travel cot both can be used as play centres by day, with zippers allowing easy access for toddlers to crawl in and out by themselves, while also offering a lying surface which is height adjustable, making sure baby is easily reached during the night.
Baby Bouncers
The hauck collection at Kaliedy also offers a range of ergonomic baby bouncers, one of which can be attached to the hauck ALPHA+ grow along highchair. The infant insert of the Alpha Bouncer Deluxe (RRP €89.99) and lateral paddings support baby's head, while the multi-adjustable backrest ensures that your little one is always in a comfortable position. The bouncer's 3-point harness helps keep your child safe and when not being used on the highchair, the bounce can easily attach to its frame where baby can keep entertained with the mobile which is designed to help support the development of baby's motor skills.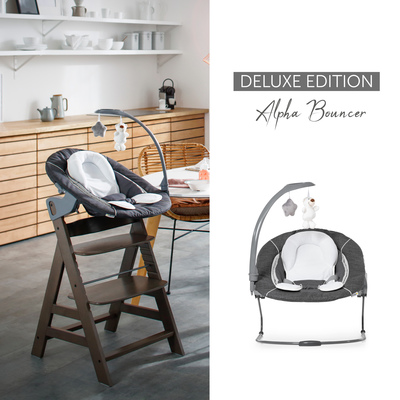 hauck has been working with parents for decades, starting as a small family business more than 90 years ago in Germany. Ever since then, they have been carefully designing some of the best, most thought-out products that are tailored to the needs of both babies and parents.