Do you wanna build a snowman? That's currently the most sung phrase in our house after the glorious Frozen movie entered our home. I can now recite every word of every song in it and unlike most, I still really like it.
But what we like EVEN MORE are these amazingly cute and organic snowmen treats. They make the most delicious festive dessert and the kids will LOVE helping you.
It is a recipe from Kate Hackworthy, an award-winning blogger and author of 'Veggie Desserts and Cakes'. She came up with the recipe to mark the launch of the Soil Association's Organic Christmas marketplace which is promoting organic recipes for the festive season.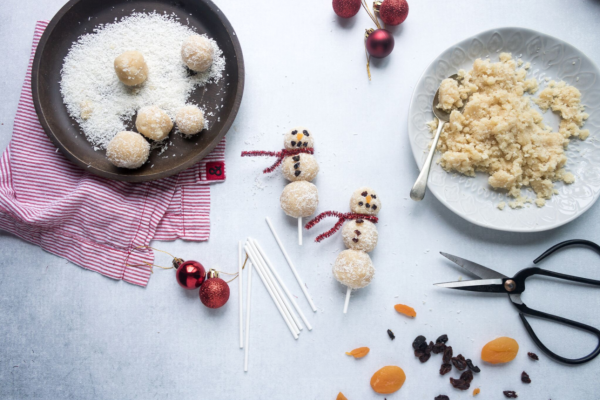 What you'll need:
For the snowballs (makes 18 balls so that's six snowmen)
150g unsweetened shredded coconut, plus extra for rolling
6 tbsp ground almond
3 tbsp unsweetened coconut milk (shake the can first)
3 tbsp melted coconut oil
2 tbsp maple syrup
1/2 tsp almond extract (or vanilla)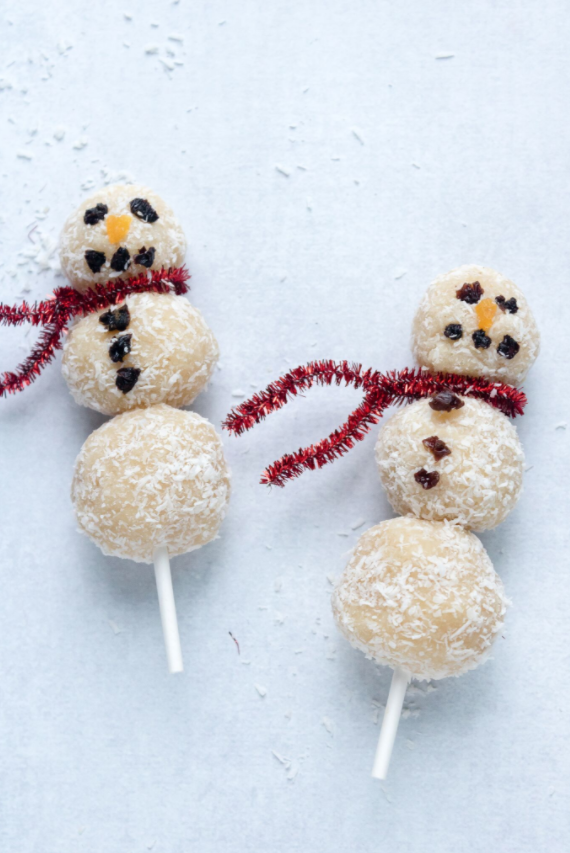 What you'll need to decorate:
Cake pop sticks
Raisins
Dried Apricots
Teeny Tiny Woolly Hats
What you'll do:
Whiz all snowball ingredients in a food processor or blender, scraping the sides down often, until it's sticky and well combined.

Roll balls of the mixture into balls, and roll each ball into more shredded coconut. Thread three balls onto each stick.

Cut the raisins into small pieces for the snowman eyes and mouths, and the apricots into triangles for the noses.

Decorate with the raisin and apricot pieces and add any tiny hats or scarves!

Store in the fridge.
Top Tip: little ones can help you make these organic snowmen, they'll love rolling the coconut balls and helping to decorate their tasty snowmen, and it's a great way for little ones to experience the joy of eating organic this Christmas.
Share the organic foods that feed your happy for Christmas at #FeedYourHappy and visit www.soilassociation.org/Christmas to find all you need for an organic Christmas.