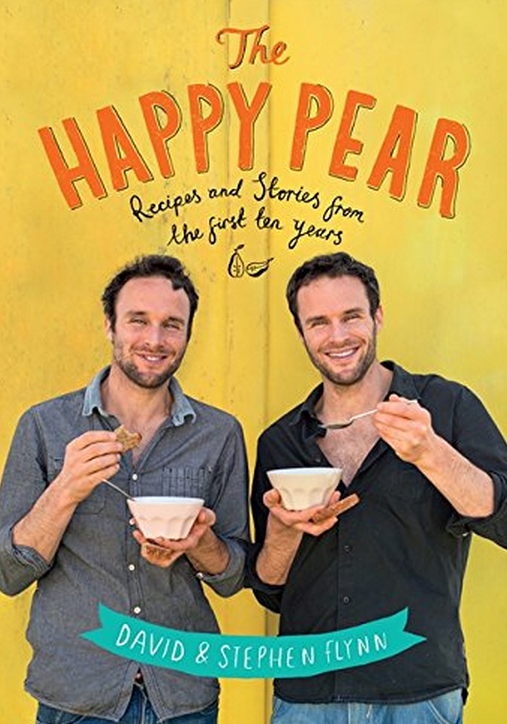 After ten glorious years in their shop/café the Happy Pear making healthy eating exciting, owners David and Stephen Flynn now share their formula in their cookbook The Happy Pear. In it they make cooking simple and fun and pack the dishes with mind blowing flavour, texture and colour.
The Happy Pear's fans range from young parents to pensioners, ladies who lunch to teens-on-the-run, Electric Picnickers to Hollywood stars. Now you can try the irresistible recipes that have made it famous. From everyday breakfasts, lunches and dinners to scrumptious yet wholesome cakes and sweet treats to special occasion splurges, you will always have a healthy option that's also completely delicious.
Admitting that they were asked constantly by their customers if they had a cookbook, they have "always had the desire to a cookbook but it never happened for one reason or another..."
The Happy Pear café journey started ten years ago when David and Stephen took over their local green grocers with the idea of starting a healthy food revolution.
Basically, they wanted to "inspire people to eat more vegetables, to be healthier and happier" and for the past ten years, their idea which has pretty much stayed the same has gotten stronger and stronger.
Admitting the book is very much about food, the lads also wanted it to be about "persistence and following your dream and passion and sticking with it."
All of their 250 recipes are tried and tested, easy-to-follow and pretty accessible for more or less everyone. From delicious recipes like their black sesame, carrot and avocado salad and Sri Lankan veg curry to sweet treats such as their superfood tiffins and coconut macaroons you know you are getting wholesome, healthy and delicious tasting food.
The idea of the book is to inspire everyone to eat more fruit and vegetables and base their meals around them.
And with Dave and Steve's copious amounts of recipes in The Happy Pear, we have no doubt that your fruit and veg compartment will be overflowing in anticipation of these amazing and tasty recipes.