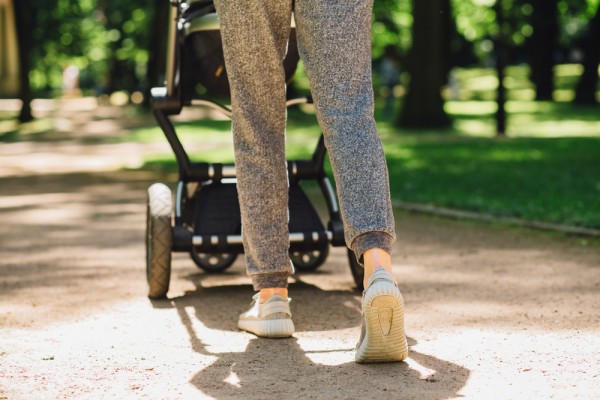 While I was never an athlete, prior to having a baby I was probably in the best shape I had ever been.
While I wasn't setting any records, I credit myself with having been a fairly decent fun runner. Several months after having my little bundle of joy, I did my first run back. It was short, it was slow and it was still incredibly tough.
While over the next few weeks I did the odd run at the weekend, I didn't commit to getting back on the exercise wagon. When you are a new mother it is easy to find a reason not to do it; the baby needs to be fed or have a nap, dinner has to be made, I don't have time, I'm too tired, I don't want to spend what little 'me time' I have running etc etc etc.
However, I wasn't happy with my new weight or shape. The more I put off exercise the more aware I became of my pouch. The more aware I became, the less motivated I was to do the exercise. I felt like I had gone so far there was no point trying to get back to where I was.
I got the motivation that I required from my husband. As well as giving me the emotional support I needed, he also signed me up for a 5-mile run (as well as a spa day, don't worry). So while I have some very modest goals, at least now I have some. I also have a small training plan, and so begins my mummy tummy chronicles where I take on the belly.
0. Preparation: Keep it going
The best advice I could give any expectant mother is to keep doing whatever exercise (within reason, kickboxing may be out) you do for as long as possible. You may need to amend timings/distances etc. somewhat as weeks go by and you always need to be mindful of hydration, but most of the basic exercises are perfectly fine to continue while pregnant (obviously consult with your doctor too).
My biggest regret is stopping my runs just a couple of months into pregnancy. I was perfectly fine to continue, however, I became very nervous I would fall or something would happen and decided to stop. Avoid this if you can. Get an exercise buddy so you are not alone or switch to a less risky version of your chosen fitness regime.
Keeping it up will not only help you during labour, as your muscles will be in better shape, it will help you recover and return to exercise quicker post-baby. Getting back to exercise as a new mother is tough but incredibly beneficial physically, emotionally and mentally. It will help you lose any baby weight you may be uncomfortable with, retone your muscles, stretch out those mammy aches, boost your confidence, increase endorphins, reduce tension and stress and help you sleep better.
So check with your doctor and unless there is a reason not to... keep going with the exercise. You will be grateful in the end. That is my first two cents! More to follow.
Mummy tummy, I am coming for you!