It's not secret that in recent years Baby Showers have exploded in popularity in Ireland but now virtual baby showers over zoom are happening across the country, as people are still keen to mark important milestones, amid lockdown. Friends and family are continuing to celebrate pending arrivals, but in a safer way as we continue to stay at home in a bid to fight COVID-19.
Irish Baby & Children's online boutique, Petit Avenue is reporting a 40 percent uplift in the gifting side of their business since restrictions were introduced in March as people go online to shop for expectant babies, newborns and for children's birthdays. It has become a new trend to arrange a 'Zoom Baby Shower', where the expectant parents open the gifts while enjoying a virtual celebration with their loved ones.
Joanne O'Brien, who owns Petit Avenue has been quick to react to the 'new normal' and has introduced a number of changes to make life easier for the Irish customer including online gift vouchers and payment plans.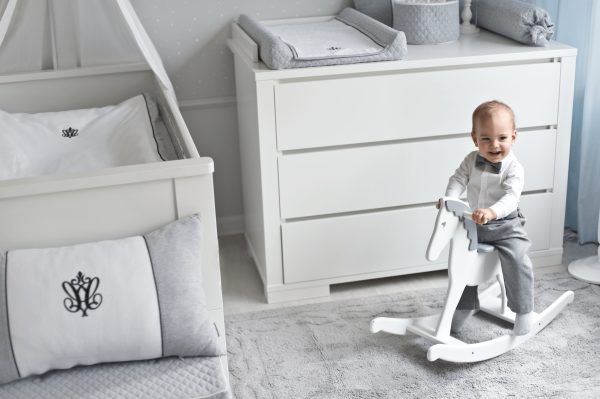 "It has become popular for groups of friends to gift parents-to-be with vouchers which they can put towards the purchase of nursery furniture and they can even a choose a special going home outfit for the newborn. Just last week we managed to organise for a rocking horse to be delivered to a couple, just as their virtual baby shower was kicking off. Apparently it was a great surprise for them and helped to make it really special," Joanne said.
"We have been busy sending gifts direct to the recipient with a personalised note if desired, so that customers can send gifts safely. As we are Irish owned & operated, we ship promptly so those special items will arrive on time, which is important when we cannot be there in person to celebrate with loved ones," Joanne continued.
Petit Avenue, who is the exclusive stockist of a number of nursery and apparel brands, is also now stocking two new sought-after ranges of Strollers and Prams. Sustainable Sweedish brand Emmalijunga offer a range of classic and modern styles (including an eco collection) for expectant parents who are looking for something a little bit different. Petit Avenue are now also exclusive Irish stockiest of the Mee Go range, which marries function and style for a smart option that stands out!
All items are handpicked by Joanne, who is mum to two-year-old twins Nevaeh and Cian. Joanne established Petit Avenue after returning to her native Ireland from the UK. She was surprised by how difficult if was to source her favourite children's apparel and furniture brands direct from Ireland, without paying exorbitant shipping costs, and so Petit Avenue was born.