Now that summer is over, we're all starting to miss the long and lazy sunny days, that blue sky feeling of freedom and the excitement of having a holiday somewhere in our near future. The kids are back to school, offices are reopening, and life seems to be returning to its regular old grind, despite all the pandemic promises we made to ourselves to prioritise family and fun more than our work lives.
It's not too late to keep that promise. Just because life seems to be returning to normal, it doesn't mean that we need to forget everything we learned during the time at home spent together as a family. That closeness is something to hold on to and a more relaxed approach to life, where family and fun is a priority, is essential to move forward with.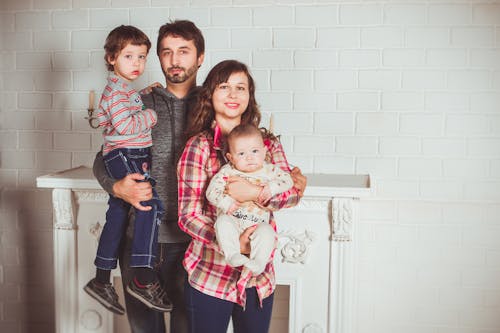 Celebrate family fun with a weekend break away somewhere this autumn. Going away with young kids doesn't have to be stressful when you find the perfect spot that caters for both parents and children to enjoy one another's company and have a restful and relaxing break away from the hubbub of routine.
Finding somewhere like The Old Ground Hotel in Ennis is always exciting, because it has the perfect balance of kid-friendly fun and luxury relaxation for adults – a rare find. Located right in the centre of Ennis town, opposite the imposing Cathedral of Saints Peter and Paul, the town's gorgeous array of boutiques and cafes are right on your doorstep. Which also means no loading up the buggy or fiddling with booster and car seats whenever you want to head out, which is always a plus for us as parents of two kids!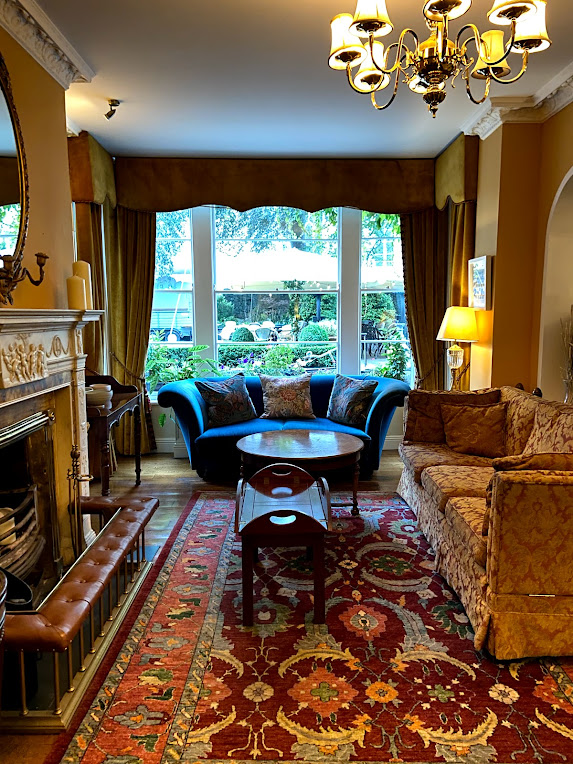 The room that we stayed in was perfect for the four of us and they provided two travel cots for the babies, which is exactly the kind of stress and fuss-free accommodation that parents need when travelling with smallies. The staff were all so lovely, both in the hotel and the hotel restaurants and were always accommodating of the babies and my massive double buggy!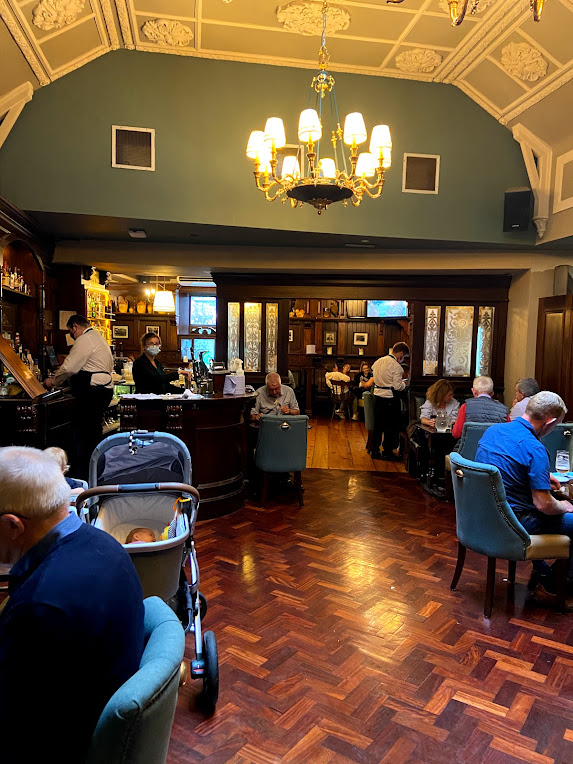 Highchairs and plenty of colouring were available for Charlie when we ate dinner in the Poet's Corner on the first evening which meant we got a nice, relaxed meal to chill out after the day. The Poet's Corner is a traditional Irish pub with cosy snugs and a lovely atmosphere, exactly what you'd expect to find in the traditional tourist hub in Clare. The food was delicious with ingredients locally sourced, we all enjoyed a Sunday roast.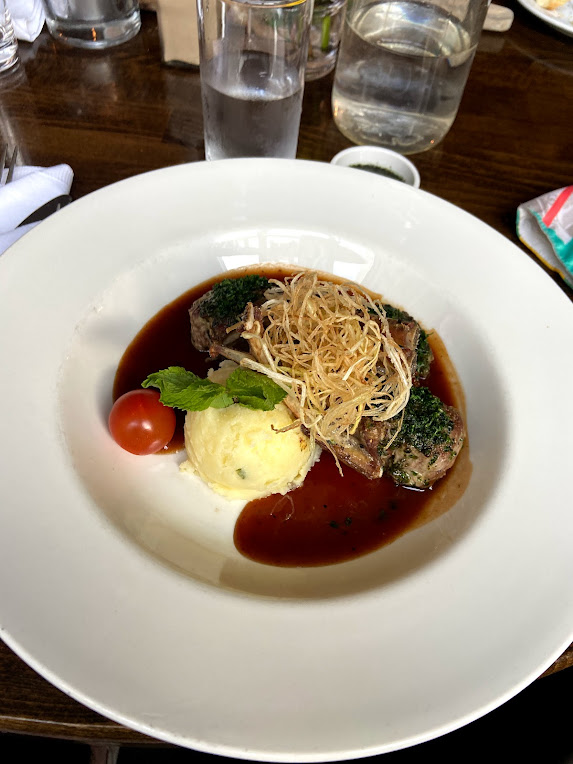 The package we chose included a trip to Moher Farm which was about 45 minutes away and we combined it with a visit to the Cliffs of Moher as well, because they were so close by. This was great fun for the kids and Charlie loved seeing the animals, the more unusual included Ozzie the ostrich, the emus and the raccoons! There is also a playground, mini golf and go-kart track as well as a Fairy Trail, so there's something for every age group here, making it a great day activity for families of all ages.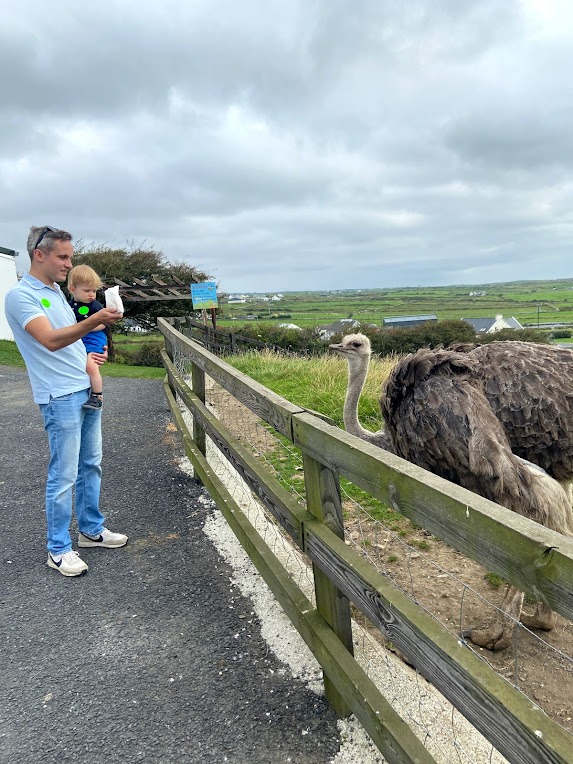 Our second evening in The Old Ground Hotel, we ate dinner in the Town Hall Bistro and the food here was really exquisite. I'd definitely recommend the Herb Crusted Loin of Clare Lamb, which was served with a port, juniper berry and redcurrant jus and the most gorgeous roast potatoes. This was a fine dining experience that didn't feel uncomfortable with two young babies, which is always important to us. The staff were fabulous and treated us so well and the food was delicious, so we'd definitely recommend trying it.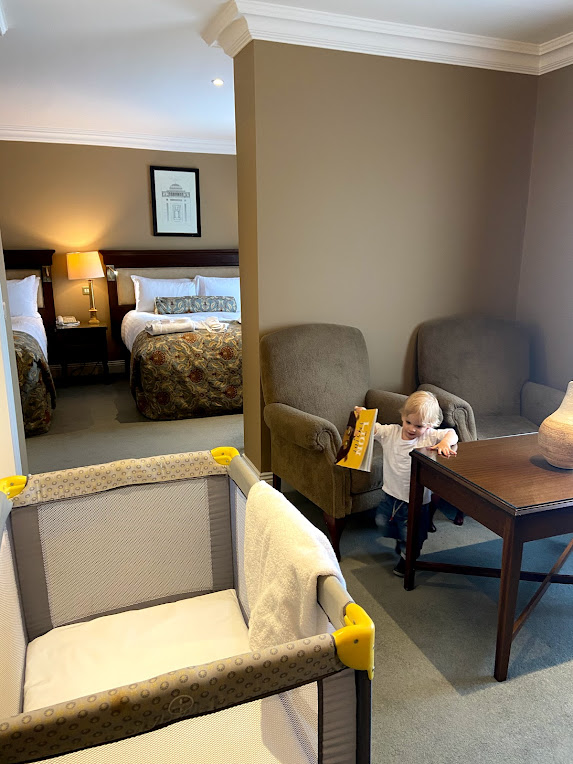 We had such a lovely time here and would highly recommend it as a family destination, from young kids to older children. Lots to see, lots to do and lots to eat! We will definitely come back to the Old Ground hotel with the kids for another stunning escape and luxury staycation.
Check out their staycation and family vacation packages for more information on how to book with the dedicated team at the Old Ground Ennis Hotel.