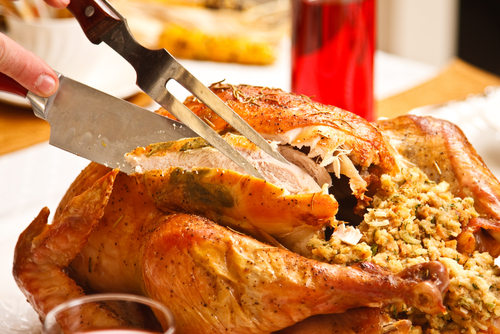 Safefood commissioned a scientific research project to determine the optimum time for cooking a turkey in an electric fan-assisted oven to make sure that it is both safely and thoroughly cooked while remaining tasty. This work was carried out on unstuffed turkeys and on cavity-stuffed turkeys and included a number of steps as follows:
Cooking trials
A number of birds were roasted in a fan-assisted oven and temperature changes during cooking were measured using thermocouples. The time needed to cook the whole turkey to a temperature high enough to kill any dangerous bacteria present was also recorded. The data collected enabled mathematical equations to be derived giving cooking time instructions according to weight for turkeys cooked in electric fan-assisted electric ovens. This research indicated that the thickest portions of the breast and thigh meat were the slowest parts of the turkey to cook. In the case of the cavity stuffed turkeys, the centre point of the stuffing was the slowest point to cook.
Sensory trials
Sensory experts rated the taste, appearance and texture of the turkeys cooked according to the cooking time instructions developed in the first step. The experts gave sensory evaluation scores of 6 and 7 on a 9 point scale. These scores indicated that the cooking instructions developed as a result of the cooking trial produced better than acceptable quality according to appearance (external and internal appearance of the white and dark meat), flavour and texture.
Microbiological challenge assays
Microbiological challenge assays were undertaken to ensure that the cooking instructions produced cooked turkeys that were microbiologically safe. Sample turkeys were inoculated with a cocktail of five strains of Salmonella and Campylobacter. After cooking no surviving microorganisms were recovered from any of the birds, either stuffed or unstuffed, indicating that the cooking instructions produced microbiologically safe turkey. Overall the cooking instructions that were developed from the project produced microbiologically safe turkey of more than acceptable sensory quality. The results from this project provide cooking advice for electric fan-assisted ovens based on sound science and led to recommendations which will help to ensure that every turkey (large or small), is cooked sufficiently to ensure it is safe, but not overcooked (which can lead to reduced eating quality).
Click here
for tips on how to stay healthy over Christmas

This article was provided by Safefood –
www.safefood.eu