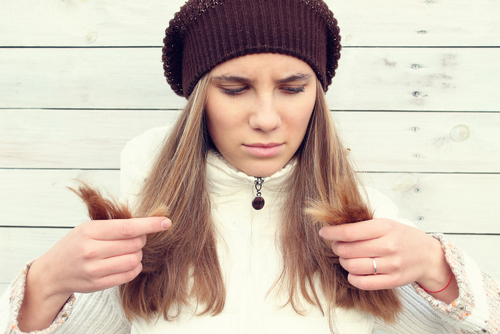 Most of us have fallen victim to dry hair at least once. Usually caused by certain products or styling tools, it can be difficult to manage but, thankfully, there are things you can do.
Step one. Is your hair actually dry?
Firstly, you need to figure out if your hair is actually dry. Look out for the following signs:
Lots of split ends
Your hair breaks easily
Has a straw-like texture
It doesn't have an elastic feel, especially when wet.
Step two. Sort it out temporarily
There are a number of things you can do to make your hair return to its former glory for a short time at least.
Shampoo your hair with a moisturising product.
Towel dry.
Use a hair masque for dry hair.
Rinse it off.
Towel dry again and leave to air dry.
Step three. Stop it from happening
Finally, stop it from happening in the first place.
Don't brush your hair so often.
Try to use as little product as possible - this includes hairspray and mousse.
Avoid over dyeing or using colour at all. If it is coloured gradually stop and you will notice a dramatic difference.