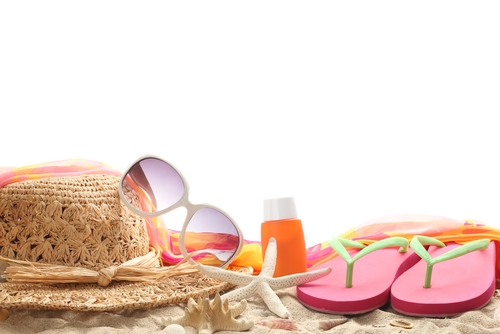 Cover up
Wearing protective clothing is possibly one of the easiest ways to protect your skin from harmful rays of the sun. A wide brim hat that shades the face, neck and ears acts as a fashion accessory in addition to providing protection from the sun.
Sun cream
Sun cream should be applied in an adequate amount to clean skin, allowing twenty minutes for it to absorb before going out into the sun. You should always use at least SPF 15 and ensure that it has protection against both UVA and UVB rays.
Consider applying a higher SPF to your face as the skin is much more delicate and sensitive to the harmful effects of the sun. Don't forget to invest in a lip balm containing SPF 15 and protection against UVA and UVB rays.
Sunglasses
Always wear sunglasses to protect the delicate area around the eyes from the damaging rays of the sun. Always choose sunglasses that block 99-100% of UV rays and also screen out 75-90% of visible light. As a generally rule, if you can see you eyes clearly through the sunglasses, they are not dark enough.
Seek shade
Between midday and 3pm, the sun is at its highest point in the sky and emits the strongest UV rays and when it is noticeable hotter. It is important to get out of the sun during this time. This may involve sitting underneath a sun umbrella, or by heading indoors and getting out of the sun entirely.
Reapply after swimming
One of the main reasons that people tend to burn, is that they forget to reapply sun cream after taking a dip in the pool. Most water resistant sun creams will still need to be reapplied 40 - 80 minutes after exposure to water.